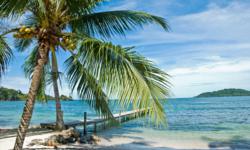 We are pleased to announce that in 2012 our sales were up substantially over the previous year and with forecasts showing more of the same for 2013...we've got a lot to look forward to.

- Rob Harper (PLV)
Panama City, Panama (PRWEB) January 23, 2013
According to Rob Harper, managing partner for PLV, 2012 was a record year for Panama vacation packages sold by the leading facilitator.
"We [PLV] are pleased to announce that in 2012 our sales were up substantially over the previous year and with forecasts showing more of the same for 2013...we've got a lot to look forward to." said Mr.Harper via telephone from Panama City.
Panama Luxury Vacations (PLV) is a full-service Panama travel agency that prides itself in providing world-class customer service unlike any other. The quality of service that goes in to each and every Panama vacation package sold stems from the belief that each individual possesses their own unique "travel personality".
"PLV believes that this "one size fits all" mentality of selling vacation packages is a thing of the past. These days tourists demand more from their travel agency and expect a holiday they - and their families - won't soon forget. Not a cookie cutter special." added Harper.
After the tremendous success of it's parent company CRV operating out of Costa Rica, founders Casey Halloran and Tony Silva decided in 2004 to incorporate PLV. Robert Harper came aboard in 2009 as managing partner for Panama and has since helped PLV become the leader in Panama vacation packages.
With such fantastic press as of late towards the benefits of Panama over it's neighbors, the tourism sector has seen steady growth over the past few months and as a result, many Panama all inclusive resorts and hotels are experiencing record occupancy rates while tour companies are also reveling in the rise in interest.
The reputable and authoritative publication International Living, recently released a study labeled "The World's Top Retirement Havens 2013" whereas Panama placed a commendable 2nd place.
The Los Angeles Times noted that many recent retirees "have been drawn to Panama by its low taxes, affordable housing, tropical climate, and contemporary, bilingual entertainment."
While taking the leap in to retirement might not be what you're looking for at this time, the idea of relaxing with the family on one of the many white sand beaches of Panama might be - consider contacting PLV and Rob Harper today to book your Panama vacation package to paradise!
About Panama Luxury Vacations (PLV):
Founded in 2004, Panama Luxury Vacations (PLV) mission is to give people the power to create their own custom vacation packages. Anyone can offer vacation packages yet PLV prides themselves in recognizing your unique "travel personality" rather than the one-size fits all concept of our competitors. PLV is a privately held company and is headquartered in Panama City, Panama.