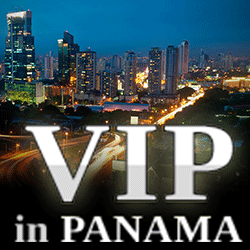 VIP in Panama
Las Vegas, NV (PRWEB) December 23, 2012
Any person that's had to plan a trip to Las Vegas knows the overwhelming feeling that the process can cause. To alleviate such stresses, Vegas locals Mordechai Cohen and Noah Auspitz created a local service that, essentially, takes care of the trip-planning process. VIPnVegas is a local reservations and VIP expert, providing both locals and tourists with the idea means of experiencing Las Vegas in its purest of forms. In an effort to expand its empire of providing city-wide entertainment, the crew at VIPnVegas is extending their reach to the Central American country of Panama. The new division of the popular Las Vegas-based company, VIP in Panama, will provide the same premier service of its sister company, just within the reaches of the tropical paradise of Panama.
Panama is a gorgeous location worthy of at least one visit within a lifetime. On top of being a relaxing place to stay, Panama offers a range of entertainment including a busy nightlife, tropical forests begging to be explored, and a sandy coastline that grants immediate access to the crisp blue waters of the Caribbean. The city itself is exotic and filled with culture, and how to go about experiencing that culture is where the services of VIP in Panama come in.
Known for its uncanny ability to build customized packages for bachelor and bachelorette parties and a wide range of other events, VIPnVegas is a premier service known well within the greater Las Vegas area. By combining the ease of use of a travel company with an unrivaled attention to detail, VIPnVegas is able to put together customized packages to serve the needs of any type of traveler. VIP in Panama will hold the same prowess as VIPnVegas by minimizing the stresses that come with traveling to a new, foreign country.
Where VIPnVegas excels at creating nightlife-based packages for its desert clientele, VIP in Panama will be just as proficient in creating the same experience within the tropical realm of Panama. When traveling to an unfamiliar location, especially one where the primary spoken language is an unfamiliar one, it's best to have a third party as a backing agent. VIP in Panama will act as that agent and will ensure that every facet of the trip to Panama, from the transportation to and from the airport to nightly dining reservations, is taken care of ahead of time.
Panama is a beautiful locale with plenty to see, so it would be a shame to miss out on any of the "must see" locations, such as the Panama Canal. On top of simply acting as a travel agent that can arrange for accommodations throughout the trip, VIP in Panama can also put together daily packages that provide for an expansive look at the country's most notable destinations. Whether it's a tour of the gorgeous countryside or a breathtaking trip down the Panama Canal in a luxury ferry, VIP in Panama can provide thrills.
VIP in Panama's most essential service will leave tourists feeling like they know the inner workings of the country like the back of their hand. Throughout the duration of the stay, VIP in Panama can provide a local tour guide that is native to the country and all of its inner workings. From the nightlife districts within Panama's bustling city to the expansive natural layout simply begging to be explored, a local tour guide will be well versed and eager to show off their country's best facets. These tour guides will not only know the lay of the land, but they will know the tongue of other locals, ensuring that nothing is lost in translation. Each personal tour guide also comes equipped with their own luxury ride, typically a sedan town car or sedan stretch limo.
VIPnVegas is a successful service in the Las Vegas area, providing tourists and locals alike with one-stop-shopping for reservations on nightlife and accommodations. With the opening of its sister company, VIP in Panama, that same level of service will make planning a vacation to the foreign country of Panama no longer seem like a tedious stressor.