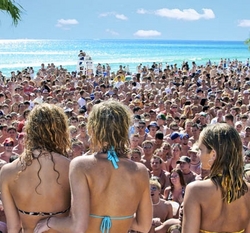 Panama City Beach is open and ready for Spring Break bookings!
Panama City Beach, FL (PRWEB) February 10, 2010
Collegiate Marketing Group LLC, a co-op of Panama City Beach hoteliers and nightclubs, says Panama City Beach, FL, will once again be the Spring Break destination of choice for college students nationwide. While other popular international hot spots are suffering through a major downturn in bookings, Panama City Beach, FL, remains the strongest Spring Break destination for college students in 2010.
Dana Lent, Communications Manager for the Panama City Beach Convention & Visitors Bureau, says, "Panama City Beach has been the Spring Break beach of choice for over 50 years and we expect to have another successful college Spring Break season this year. Panama City Beach is open and ready for Spring Break bookings!"
Collegiate Marketing Group says the current flood of Panama City Beach hotel reservations is largely due to its aggressive internet marketing campaign. The group's survey indicates this media blitz is playing a major part in keeping this Florida destination in front of students when it comes time for them to make their Spring Break travel plans. A key element to the marketing plan is the use of popular social networking sites like Facebook and Twitter to reach millions of students at targeted universities and colleges nationwide.
Sometimes called the Spring Break Capital of the World, Panama City Beach is famous for this annual party, as students from across the globe head en masse to the stunning white sand beaches. Known as one of the most exciting Spring Break locations this side of paradise (and no passport required), this beach has everything from huge mega beach clubs to rock stars in concert.
Students looking for parties and clubs in Panama City Beach to dance the night away (4am closing times are the norm), there are dozens to choose from, many of which host large special events specifically geared towards Spring Breakers. Students will find serious entertainment at these hotspots. In 2009, a whole host of famous artists performed in Panama City Beach, including Kenny Chesney, the All-American Rejects and Asher Roth, among many others. In addition, MTV reality show stars were dropping by the local beach clubs every night and playing guest DJ and hosting a variety of Spring Break events. Talk about name dropping! One never knows who might show up at Spinnaker, Harpoon Harry's, or Sharky's Beach Club.
Marketing plans for Spring Break 2010 are piggy-backing on last year's celebrity blitz, including booking celebrities from MTV reality shows to both spread the word about Spring Break through the co-op website and Facebook page and also hosting events during March. Celebrities from "The Jersey Shore" and "The Hills" as well as other popular MTV television shows are currently being contracted to appear.
For more details log on to http://www.pcbeachspringbreak.com.
###