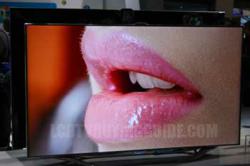 It looks like there will be at least as many LED Televisions as plasma televisions in Panasonic's lineup for 2012
Las Vegas, NV (PRWEB) January 13, 2012
LCDTVBUYINGGUIDE.COM and PLASMATVBUYINGGUIDE.COM Editors have written detailed features reviews and first impressions reviews and introductions about TVs from the CES 2012 show in Las Vegas. "We are surprised by the variety and quality of the Panasonic LED TV offerings," states Jack Burden CEAG Contributing Editor. "It looks like there will be at least as many LED Televisions as plasma televisions in Panasonic's lineup for 2012." Editors also note that Panasonic will still likely focus most of their top end attention on the Plasma Television category. "One series we want to keep a close eye on this year is the Panasonic TC-L55WT50 which has very good picture quality, a super slim bezel width and depth and is also available in the 47" depth." Editors note that in the past Panasonic's larger TV offerings have been focused on the smaller HDTV sizes but this year that's changed and the company is offering more large LED backlit LCD TVs due to advancements in technology and how well received they were last year.
According to the editors, LG will maintain its plasma television lineup with such high end models as its LG 60PM6700. LG won an Innovations award for its higher end PM9700 plasma TV from CES. "One thing we noticed about these plasma TVs from LG was their nice, deep black levels," states Robert Wiley – editor and lead reviewer for the company. "They are going to be formidable competition for large LEDs and a great value."
CEAG's reviewers also had a good look at the Sharp offerings and commented via their web site review that a great value large LED backlit LCD TV will be the Sharp LC-70LE640U. "This huge 70" TV will join Sharp's two 80" models in offering exceptional value per inch of viewing area even though its is a lower end line and does not have the best picture quality features. The price could be fantastic." noted Wiley.
Samsung will continue its popular line of value oriented plasma TVs with for instance Samsung PN51E550 notes plasmatvbuyingguide.com. The company notes that this model will have, "The E550 includes 2 pairs of Samsung's new and improved 3D glasses. The light weight glasses are far more comfortable and considerably less bulky than many active 3D glasses. The 3D performance on the PN51E550 is improved over previous years. There is plenty of depth in the highly detailed picture and there is less crosstalk an blurring when compared to older models."
Consumer Electronics Advisory Group Inc. operates several premier buying guide websites, including plasmatvbuyingguide.com, and lcdtvbuyingguide.com, among others. Online since 1999, the company provides objective and thoroughly researched information through professional reviews performed by seasoned reviewers. Editors Robert Wiley and Jack Burden have been reviewing televisions since the first commercial plasma TVs hit the market in year 2000. ISF calibrator John Wirtz has been calibrating televisions professionally for 10 years. The company adheres to strict testing guidelines using the highest caliber equipment. Company web sites have more than 15 million unique visitors each year in the fast growth consumer electronics industry.
# # #