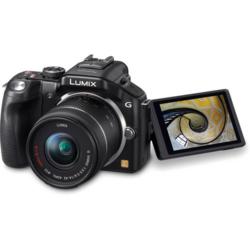 B&H Photo Video is excited to share with photographers the release of a host of new Panasonic cameras, including a variety of compact point-and-shoot cameras, and the DMC-G5, an interchangeable lens mirrorless camera.
NYC, NY (PRWEB) July 18, 2012
B&H Photo Video is excited to share with photographers the release of a host of new Panasonic cameras, including a variety of compact point-and-shoot cameras, and the DMC-G5, an interchangeable lens mirrorless camera.
Panasonic's Lumix G5 Compact System Digital Single Lens Mirrorless (DSLM) Camera offers high-quality images with high-speed response time, a newly integrated 16.05-megapixel Live MOS sensor, and a redesigned Venus Engine to render clear, crisp images in both photo and video recording. Featuring a compact, lightweight body with built-in flash, it boasts ultra-high mobility, while offering users a powerful camera performance which achieves spectacular image quality, realizing true-to-life photo details through excellent resolution, image rendering and color production, in union with the Lumix G Vario 14-42mm lens.
The Venus Engine has improved its already advanced signal processing capabilities, and with 3DNR and Multi-process NR can detect bright areas as well as smooth areas or edges within an image, and apply a multi-step noise reduction to further increase the sharpness of ones photos. High Dynamic Range has been integrated on the G5, and will shoot several identical photos simultaneously in order to overlay them and create one perfectly balanced photo.
The Lumix LX7 Digital Camera by Panasonic brings with it a fully-redesigned lens, sensor, and image processor for fast performance and gorgeous picture quality. With the newly-developed 24mm Leica DC Vario-Summilux lens, we will see why the LX7 is a cut above the rest in terms of high-quality optics in a point-and-shoot. The LX7's lens is a 3.8x optical zoom lens, with a focal length equivalency of 24-90mm. That is a great standard zoom for all your day-to-day shooting. But what makes the lens special is its f/1.4 aperture at the wide angle end, and f/2.3 at the telephoto end. These are apertures in line with the best available SLR lenses, and will provide you with enough light entering your camera to use high shutter speeds, and capture sharp images with beautiful gradations even in low light settings.
The LX7 has also adopted a new, larger (1/1.7") 10.1MP MOS sensor with an improved S/N (signal-to-noise) ratio that will result in high-resolution images with outstanding clarity and rich gradation, even in high contrast situations. The Venus Engine image processor has also been improved, now featuring Intelligent NR (Noise Reduction) which optimizes the NR process by separating parts of the image. It will detect the bright part of an image and localize the noise reduction where it is needed most. Also, the processor integrates a high speed digital signal to improve continuous shooting rates to 11 frames per second with mechanical shutter and 5 fps in continuous Auto Focus.
This new lineup of cameras is designed to fit the niches of a variety of photographers, stemming from a pure beginner to the experienced professional, with different cameras hitting different notes along the way.
On board with a recent trend of compact cameras housing impressive optics and greater manual control, delving deeper into ease-of-use and simplicity of recording imagery, the SZ5, LZ20, FZ200, and FZ60 cameras all integrate new features that separate themselves from their predecessors, and continue to redefine intuition and enjoyment in regard to capturing the best images possible, without the learning curve of more complex camera systems.
The DMC-FZ200 is the first Panasonic digital compact camera to offer an f/2.8 aperture across the full range of its zoom. And given that the full range runs to 600mm (in 35mm format), that's saying something. The lens on the FZ200 is a 24x optical zoom lens that starts at the wide angle end as a 25mm and zooms all the way to 600mm.
Panasonic DMC-SZ5 maintains the high performance standards of previous SZ models, but has incorporated Wi-Fi connectivity, for a direct camera-to-smartphone connection
Panasonic also announced the Lumix G Vario 45-150mm f/4-5.6 ASPH MEGA O.I.S. Lens telephoto zoom lens available for Lumix G-series Micro Four Thirds cameras.
About B&H Photo Video
As the world's largest source of photography, video and audio equipment, B&H Photo-Video is known worldwide for their attentive, knowledgeable sales staff, and excellent customer service, including fast and reliable shipping. Visitors to the website can access a variety of enlightening articles and educational videos. B&H has been satisfying customers worldwide for nearly to 40 years.