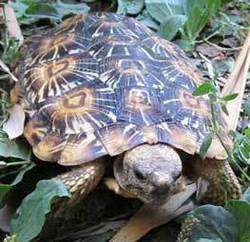 Oakland, CA (Vocus) October 1, 2010
Oakland Zoo welcomes three new pancake tortoises to the Savannah Reptile Building. The trio (one male and two females) are not keen on butter, but they are named Flapjack, Maple, and Mrs. Butterworth. The male is twenty-three years old, one female is sixteen years old, and the other female is three years old. They enjoy eating a fresh salad which is prepared daily by commissary keepers. The pancakes came to us from the Bronx Zoo in New York on August 10, 2010. After being in quarantine for a month, the tortoises are now on exhibit daily from 10:00am – 4:00pm in the Savannah Reptile Building located next to the zebra and meerkat exhibits.
The pancake tortoises are a new species to join the Oakland Zoo and will be sharing their home with a plated lizard. If flipped on their backs, these tortoises are able to right themselves with little difficulty, which is rare when it comes to tortoises. They are also the fastest moving tortoise species and tend to run for cover when they feel threatened. Plus, these are pancakes that can climb. They are known to scramble up 30 degree rock faces.
About Oakland Zoo
The award-winning Oakland Zoo is home to more than 660 native and exotic animals. Nestled in the Oakland Hills, in 525 acre Knowland Park, the Zoo is located at 9777 Golf Links Road, off Highway 580. The East Bay Zoological Society (Oakland Zoo) is a nonprofit 501(c)3 organization supported in part by members, contributions, the City of Oakland, and the East Bay Regional Parks. For more information please visit our website at http://www.oaklandzoo.org.
###