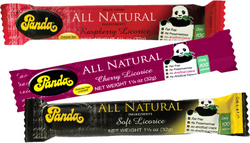 Portion-controlled snacks are a big trend right now, but calorie control alone is not enough
Bloomfield, NJ (Vocus) July 29, 2010
In a recent survey, one-third of participants said they are trying to make healthier snacking choices now than they were just two years ago.* Panda All-Natural Licorice has the solution for those seeking a treat that satisfies without compromise…while controlling portion size. The leading all-natural licorice brand, Panda now offers individually wrapped 100-calorie snack bars in three delicious flavors: original black; cherry; and raspberry.
Premium, soft-eating, all-natural Panda Licorice 100-calorie bars have more to offer than great taste. These fat-free treats contain no added colors, salt, artificial flavors or preservatives. Panda Licorice is also vegan, Kosher and Halal-diet friendly. And all that goodness now comes with the convenience of grab-and-go, 100-calorie snack bars.
"Portion-controlled snacks are a big trend right now, but calorie control alone is not enough," said Lisa Gawthorne, International Marketing Manager, Panda Licorice. "Many of the treats lining grocery store shelves are full of unhealthy fat and artificial ingredients that can actually leave snackers craving more."
Panda Licorice 100-calorie bars are available at natural food stores and select grocery stores. The original "black" variety contains only four ingredients: molasses, wheat flour, licorice extract and aniseed oil. Raspberry and cherry varieties contain real fruit puree.
*Source: http://www.kansascity.com/2010/07/05/2064683/more-consumers-develop-taste-for.html
About Panda Licorice
Based in Finland, Panda has a long tradition of licorice know-how since it began delighting customers with the sweet in 1927. Since its debut in the U.S. in 1977, Panda still ranks as the first all natural licorice and one of the top selling confectionery products in the natural food industry. Its success within the natural food industry has helped Panda Licorice expand its presence into other retail outlets. Panda All Natural Licorice is distributed by InterNatural Foods, LLC and World Finer Foods. To check availability at a store near you, visit http://www.internaturalfoods.com or http://www.worldfiner.com. More information is also available at http://www.pandalicorice.com. Become a fan on Facebook at http://www.facebook.com/PandaLicoriceUSA. Follow us on Twitter @PandaLicoriceUS.
Press: For more information or to arrange an interview, please contact Stefanie Schoen at S3 Public Relations: (973) 257-5533 or sschoen(at)s3s3s3(dot)com.
###