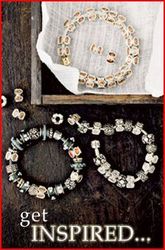 The new home page design is fresh and reflects to the style and sophistication that is expected of the Pandora jewelry line
Ann Arbor, MI (PRWEB) October 2, 2008
Lewis Jewelers (http://www.LewisJewelers.com/Pandora_Bracelets/) announces its updated Pandora Bracelets Home Page design.
"The new home page design is fresh and reflects to the style and sophistication that is expected of the Pandora jewelry line," commented Deana Geiling of Lewis Jewelers. "The home page is also extremely functional and allows visitors to access a variety of Pandora jewelry categories with ease."
Through easy to navigate links from the newly designed home page, visitors can access specific shopping areas dedicated to Pandora Bracelets, Pandora Earrings, Pandora Rings or Pandora Necklaces. There are also areas which showcase specific metals like Gold and/or Sterling Silver. In addition, shopping can be tailored to groups of Gems or Glass beads. Furthermore, the Pandora Bracelet Builder and Pandora Earring Builder are especially popular shopping areas. These dynamic builder systems can be accessed from the home page, allowing internet customers to create and securely purchase one-of-a-kind Pandora bracelets and earrings online.
The Pandora Bracelets website is operated by Lewis Jewelers, a jewelry expert located in Ann Arbor, Michigan. Each item in the Pandora bracelet collection is a handmade Danish design in sterling silver and 14K gold. Various pieces of are handcrafted with colorful precious stones and cultured pearls. There are more than 600 Pandora beads and matching Pandora jewelry to choose from.
Lewis Jewelers is distinguishable not only by reputation but also as offering some of the world's finest jewelry designs for over 85 years. Lewis Jewelers is a family owned and operated business with 20 full-time employees, which includes four master goldsmiths and three Graduate Gemologists (graduates of the Gemological Institute of America G.I.A).
The website (http://www.LewisJewelers.com/Pandora_Bracelets/) also features a vast selection of jewelry in stock including 27 top designer jewelry brands made in platinum, white or yellow gold, along with 13 major watch manufacturers, fashion accessories and gifts.
About Lewis Jewelers
Lewis Jewelers is proud to carry the full line of Pandora. Pandora bracelets, Pandora charms and Pandora beads are only a part of the collection. For more information, contact Lewis Jewelers, 2000 West Stadium Blvd., Ann Arbor, Michigan, 48103, 877-88-LEWIS or visit http://www.LewisJewelers.com/Pandora_Bracelets/ or http://www.PandoraBraceletsUSA.com.
###