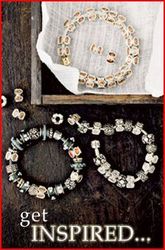 Customers can build their own Pandora Bead Wish List, access it at any time, make changes and email their lists to friends and loved ones
Ann Arbor, MI (PRWEB) September 18, 2008
Lewis Jewelers and their Pandora Bracelets website announce exciting new technology where registered users can store and share their personalized Pandora Bead Wish Lists.
"Customers can build their own Pandora Bead Wish List, access it at any time, make changes and email their lists to friends and loved ones," commented Kate Tarr of Lewis Jewelers. "This is a great opportunity for those who collect Pandora beads to save their favorite Pandora beads, charms, bracelets and jewelry, as well as to provide their loved ones with insight into the Pandora fashions they would love to receive as gifts."
Pandora jewelry continues to increase in popularity within the United States and throughout Europe. Working from an in-house studio in Copenhagen, Denmark, dedicated Pandora jewelry designers fashion every Pandora bead into a finished jewelry product to ensure consistent innovation and originality. Pandora introduces new designs four times a year.
The Pandora Jewelry line has already established a foothold in Northern Europe as one of the most successful jewelry businesses to date. Pandora bracelets are now available at Lewis Jewelers.
Patented Pandora bracelets can range in price from $35 for the basic sterling silver to $1150 for a solid 14k gold. Small attachments price out at $15 and clips and beads range from $25 to well over $500. The backbone of the Pandora bracelet is the patented threaded system. Each bracelet is divided into three sections by small threads. Each bead is equipped with interior threads, allowing them to be attached on a bracelet segment in any desirable order. The beads move freely and rotate slightly with wrist movement, creating an undeniably eye-catching effect.
Pandora Jewelry is also famous for its philanthropy through its sponsorship of The Susan G. Komen Foundation and the Mississippi Hurricane Recovery Fund. A bead has been designed especially for each foundation. A portion of the profits from the sale of each custom bead is donated to the foundation. Pandora Jewelry has donated more than $50,000 to the sponsored organizations.
About Lewis Jewelers
Lewis Jewelers is proud to carry the full line of Pandora Jewelry. Pandora bracelets, Pandora charms and Pandora beads are only a part of the collection. For more information, contact Lewis Jewelers, 2000 West Stadium Blvd., Ann Arbor, Michigan, 48103, 877-88-LEWIS or visit http://www.LewisJewelers.com/pandora_bracelets/ or http://www.PandoraBraceletsUSA.com.
CONTACT:
Lewis Jewelers
2000 West Stadium Blvd
Ann Arbor, Michigan
877-88LEWIS
info @ pandorabraceletsusa.com
# # #