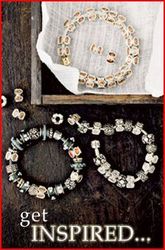 The 2008 Fall Pandora collection is available on LewisJewelers.com beginning October 1, 2008. We're excited about this season's offerings; and we're certain our valued customers will be delighted the new designs
Ann Arbor, MI (PRWEB) October 7, 2008
LewisJewelers.com announces online availability of the exciting fall 2008 line up of Pandora beads. Customers interested in the Fall 2008 Pandora collection may now shop for the new season's items directly at http://www.LewisJewelers.com.
Working from an in-house studio in Copenhagen, Denmark, dedicated Pandora jewelry designers fashion every Pandora bead into a finished jewelry product to ensure consistent innovation and originality. Pandora introduces new designs four times a year.
The 2008 Fall Pandora collection features exquisite beads that range from $15 to $200 in a wide range of themes and colors. Intricately designed styles include colorful enamel charms, exquisite murano glass, vibrant silver beads and stunning gold beads. Whimsical beads include a picnic basket, elf, alarm clock and hearts. Gorgeous Pandora rings and Pandora earrings are also part of the Fall 2008 collection. In fact, for a very special gift set, one might consider the cameo ring, cameo bead and cameo earrings.
"The 2008 Fall Pandora collection is available on LewisJewelers.com beginning October 1, 2008. We're excited about this season's offerings; and we're certain our valued customers will be delighted the new designs," commented Ron Peterson of Lewis Jewelers.
The backbone of the Pandora bracelet is the patented threaded system. Each bracelet is divided into three sections by small threads. Each bead is equipped with interior threads, allowing them to be attached on a bracelet segment in any desirable order. The beads move freely and rotate slightly with wrist movement, creating an undeniably eye-catching effect.
In addition to offering Pandora jewelry at its website (http://www.LewisJewelers.com/Pandora_Bracelets/), Lewis Jewelers, a jewelry expert located in Ann Arbor, Michigan offers a vast selection of jewelry including 27 top designer jewelry brands made in platinum, white or yellow gold, along with 13 major watch manufacturers, fashion accessories and gifts.
About Lewis Jewelers
Lewis Jewelers is proud to carry the full line of Pandora Jewelry. Pandora bracelets, Pandora charms and Pandora beads are only a part of the collection. For more information, contact Lewis Jewelers, 2000 West Stadium Blvd., Ann Arbor, Michigan, 48103, 877-88-LEWIS or visit http://www.LewisJewelers.com/Pandora_Bracelets, or http://www.PandoraBraceletsUSA.com.
CONTACT:
Lewis Jewelers
2000 West Stadium Blvd
Ann Arbor, Michigan
877-88LEWIS
info @ pandorabraceletsusa.com
###