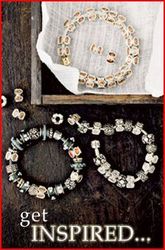 Ann Arbor, MI (PRWEB) May 22, 2008
With Internet security increasingly important, PandoraBraceletsUSA.com has enlisted the protection of McAfee Hacker Safe, protecting online shoppers from identity theft and credit card fraud. The site is tested and certified daily to pass the Hacker Safe Security Scan. To help address concerns about hacker access to confidential data, the "live" Hacker Safe mark appears only when a Web site meets the Hacker Safe standard.
PandoraBraceletsUSA.com's innovative system allows customers to build and purchase Pandora bracelets securely online with the assurance their personal information is now protected through Hacker Safe.
The bracelet building service begins with a selection of six different bracelets, from sterling silver to 14k gold. From there, users can add charms from the hundreds of available charms. The charms themselves range from silver and gold beads, Murano glass beads, gems and birthstones, cubic zirconium and gold/silver charms, to gold and silver letters. The combinations for bracelets are virtually endless.
Once users are done and ready for the next step, the sophisticated online shopping cart allows them to add or remove charms or beads. To check out completely including payment, users must register with the Web site. Users can then pay for their bracelets through the secure Web site using most major credit cards.
Patented Pandora bracelets can range in price from $35.00 for the basic sterling silver to $1150.00 for a solid 14k gold. Small attachments price out at $15.00 and clips and beads range from $25.00 to well over $500.00. The backbone of the Pandora bracelet is the patented threaded system. Each bracelet is divided into three sections by small threads. Each bead is equipped with interior threads, allowing them to be attached on a bracelet segment in any desirable order. The beads move freely and rotate slightly with wrist movement, creating an undeniably eye-catching effect.
About Lewis Jewelers:
Lewis Jewelers is proud to carry the full line of Pandora Jewelry. Pandora bracelets, Pandora charms and Pandora beads are only a part of the collection. For more information, contact Lewis Jewelers at 877-88-LEWIS or visit PandoraBraceletsUSA.com.
Contact: Lewis Jewelers, 2000 West Stadium Blvd, Ann Arbor, Michigan, 877-88-LEWIS
###