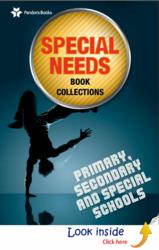 With this increased interest and demand for additional special needs books resources, Pandora have created their e catalogue, and focused on presenting simply and effectively, the range of literature available
King's Lynn, Norfolk (PRWEB UK) 1 February 2012
The school books supplier have selected the books to meet the needs of dyslexic and struggling readers, and are provided by leading publishers, renowned for producing books that are both engaging and accessible.
The launch of the SENCO catalogue comes as Pandora Books has been met with increasing demands for books and resources to help raise the attainment levels of those pupils struggling with their literacy.
This demand has also increased in line with recent news from the Department of Education that England's most disadvantaged schools pupils are set to benefit in April of this year from £600 each, as part of the increased Pupil Premium.
The initiative is geared towards any child that has been registered for Free School Meals in the last six years, with the premise that those who have been eligible for Free School Meals demonstrate lower attainment levels than those who are not.
The Pupil Premium is additional to the funding a school normally receives, and has been devised to ensure that pupils from disadvantaged backgrounds benefit from the same opportunities as those from more privileged families.
Schools are able to decide how best to spend the additional funding ,with no definitive regulations in place to determine their expenditure, however the money has been seen by many as a well needed cash injection to limited special needs budgets.
It is with this increased interest and demand for additional special needs books resources that Pandora have created their e catalogue, and focused on presenting simply and effectively, the range of literature available for a plethora of interests and attainment levels.
With generous discounts on published prices and free protective covers fitted to all paperbacks, Pandora Books are committed to providing educational resources that are great investments to schools being both of high quality and value for money.
# # #