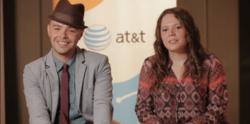 We're honored that the Hispanicize music festival is the first Latin music one that Pandora has ever featured because this channel is truly breathtaking, quality work,
Miami, FL (PRWEB) June 04, 2013
Internet radio giant Pandora today unveiled a dedicated custom channel for Hispanicize 2013 that features a special Hispanicize music mixtape, the greatest music moments, celebrity interviews and photo albums from the just concluded annual Latino trends and social media event. The channel went live today at http://www.Pandora.com/hispanicize2013.
The beautiful Hispanicize 2013 custom channel is similar to one Pandora created earlier this year for SXSW and is an exciting way to showcase the event on a audio-visual platform that reaches over 12 million U.S. Hispanics each month. Among the video stories on the Hispanicize hub are interviews with Jesse & Joy, La Santa Cecilia, Locos Por Juana, Sonsoles, Santaye and 2013 Latinovator award winner Carlos Ponce, among others.
The Hispanicize mixtape features music from all of the performers of Hispanicize 2013 music festival and from Pandora's 30 Latin and Mexican music genre stations, all of which can be fully personalized.
"We're honored that the Hispanicize music festival is the first Latin music one that Pandora has ever featured because this channel is truly breathtaking, quality work,," said Hispanicize event founder and creative director Manny Ruiz." To have a platform like Pandora actively promote our Latin music artists, major sponsor brands like AT&T and Target and the Hispanicize brand itself at this national scale is just awesome. We want to urge our fans and followers to support our Latin music community by promoting this channel through their social media platforms and by making Hispanicize their fully customizable Pandora hub for music."