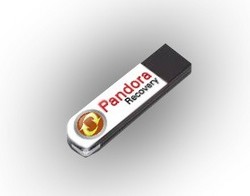 Computers are a big part of everyday life. Mistakes are going to happen and they are increasingly becoming more damaging
New York, NY (PRWEB) March 21, 2008
The incidents are numerous, unavoidable and too often when data is lost and not retrieving that data is not an option. PC users around the globe will attest to the fact that an easy-to-use data and file recovery program is essential to have in your arsenal of utilities.
"Computers are a big part of everyday life. Mistakes are going to happen and they are increasingly becoming more damaging," says Pandora Corp. co-founder, James Leasure. "I can't tell you how many times I have deleted a file only to immediately regret it. This program was designed with non-technical computer users, like myself, in mind who need a fast and efficient recovery."
Last fall Pandora Recovery upgraded its search functionality and went mobile. Distributed on a removable storage unit (USB jump drive), Pandora Mobile Recovery requires no installation, which increases the data recovery success. Because you can simply run the program from and recover the deleted data to the Pandora Mobile Recovery unit, the chance of data being further corrupted or written-over is omitted.
The functionality improvements have made the tool more impressive and popular as a download. Within six months of placement on http://www.downloads.com, the program passed 100,000 downloads. In addition, it has earned a spot inside the Top 100 System Utilities.
"Ever since the release of Pandora Recovery we've received rave reviews from users saying how our product has recovered years of data thought lost and gone forever due an accidental delete or drive format," says Chief Software Evangelist, Chris Graham. "We've even had people claim that we saved their jobs."
Graham says feedback like that keeps his team hard at work raising the bar. The next step for Pandora Recovery is a minor update (version 1.4) within the next couple of weeks that will significantly improve existing functionality. But the big news is coming this spring with Pandora Recovery 2.0, approximately one year after the program first hit the market.
"Pandora Recovery 2.0 will include the addition of support for FAT and FAT32 formatted drives. This will enable the recovery of lost data from USB flash devices such as memory sticks, camera cards, and MP3 players, to name a few," says Graham. "I fully expect FAT/FAT32 support to drive Pandora Recovery from the Top 100 list all the way to the Top 10."
And it certainly won't end there. Leasure says the program will continue to evolve and grow just as the world's dependency on electronic data does.
Most likely, it will not be a program you use daily… but when you need it, you need it - and it can really save you a lot of stress and headaches in your PC usage. While the basic software is still FREE to everyone, for just a little more than the price of an empty USB flash drive, you can buy the Pandora PowerPack for instant recovery of lost data without requiring any physical installation of the program, which might compromise already-deleted files. Pandora PowerPacks include Pandora Mobile Recovery, plus a demo version of the company's signature monitoring software, PC Pandora Version 5 (with a $20 coupon to purchase!). Further details on the program are available at http://www.pandorarecovery.com; Pandora products are also available on Amazon.com.
How Does It Disappear?
Statistics on data loss is sparse, as most research is conducted independently by companies who specialize in data recovery. Here are a few statistics that illustrate the spectrum of data loss from a few years ago…
Miscellaneous stats about computer data loss:
· A hard drive crashes every 15 seconds
· 32% of data loss is caused by human error
· 25% of lost data is due to the failure of a portable drive
· 44% of data loss caused by mechanical failures
· 1 in 5 computers suffer a fatal hard drive crash during their lifetime
A national Harris Interactive survey of 597 computer users revealed:
· Nearly 3 out of 5 personal computer users have lost an electronic file they thought they had sufficiently stored
· Only 1 in 4 users frequently back up digital files, even when 85% of computer users say they are very concerned about losing important digital data
System Requirements: Pandora Recovery requires Windows 2000, Windows XP, Windows 2003 Server or Windows Vista for installation. Pandora Recovery currently only recovers deleted data from NTFS formatted drives. There are no plans at this time to create a version compatible with the Mac, Linux, or any other non-Microsoft Operating System.
About Pandora Corp.: Pandora Corporation was formed with one goal - to help our customers monitor, control and protect their families and themselves online. From keeping children safe from predators and shielding them from potentially harmful or mature content, to ensuring the integrity of your relationships, online records, accounts and personal information, Pandora Corporation's flagship PC Pandora program is an essential tool in the fight against the potentially catastrophic consequences of having your privacy (or that of your family) breached. Pandora Corporation continues to innovate and integrate features our users want and request. Pandora Recovery's upgrades come as a proof of our commitment.
# # #