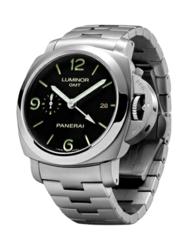 Los Angeles, CA (Vocus/PRWEB) February 03, 2011
Los Angeles-based purveyor of high-end luxury goods Chong Hing Jewelers proudly brings watch lovers the complete line of Panerai luxury watches. Italian brand Panerai, whose beginnings can be traced back to 1860, is famous for its Radiomir and Luminor watches, which were used by Italian soldiers in World War II. Both Radiomir and Luminor Panerai timepieces have luminous features that make these luxury watches stand out amongst their peers.
Officine Panerai's first achievement was to become the official supplier of the Royal Italian Navy, which inspired the brand to build high precision mechanisms. Since then, Panerai has manufactured luxury watches with timing mechanisms, depth gauges, and mechanical calculators that were used to launch torpedoes and high speed motor torpedo boats. Panerai has also supplied watches for both Egyptian and Mediterranean Navies, though limited production to just a few pieces.
While Panerai's main consumer target has been the military community, the Italian brand began to create limited edition models aimed at end-consumers: Luminor, Luminor Marina, and the Mare Nostrum Chronograph. Other limited edition Panerai luxury timepieces are the Slytech series which was manufactured for Sylvester Stallone, who is known to be a big Panerai fan, and the Panerai Ferrari watches, which are divided into the Granturismo and Scuderia collections.
Chong Hing Jewelers, a reputable distributor of luxury timepieces and fine jewelry, carries the Manifattura line of Panerai watches – one of the four major lines manufactured by the Italian watchmaker. The Manifattura line boasts of the in-house movements built by Panerai, offering its distinct clientele 6 to 10 power day reserves and the complex combination of GMT and chronograph functions.
Aside from carrying luxury watches, Chong Hing Jewelers also offers fine jewelry, loose diamonds, and gifts and accessories such as cuff links, home décor, objets d'arts, crystalware, porcelain, charms and leather goods. Sign up with Chong Hing's newsletter or visit the Panerai distributor's official blog for the latest industry news about watchmaking.
About Chong Hing Jewelers
Chong Hing Jewelers, a purveyor of high-end watches and jewelry has built a reputation for incomparable service and value. Chong Hing Jewelers is proud to be an Authorized Dealer for esteemed brands of exclusive Swiss watches, rings, necklaces, bracelets, earrings and other Gifts & Accessories. Chong Hing Jewelers' collection of loose diamonds, engagement rings, 18k yellow gold, white gold, rose gold and platinum jewelry is sure to fit every personality, attitude, and lifestyle for even the most discerning customer.
# # #