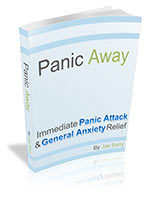 Indeed - this can be the 'First-Aid' kit for anxiety.
New York, NY (PRWEB) June 15, 2011
If there was a natural way to overcome the anxiety you feel during panic attacks, wouldn't you want to start benefiting from it right away? With Barry McDonagh's Panic Away program, trusted by doctors and thousands of satisfied customers, you can do just that with a simple download.
Panic Away approaches anxiety by showing that it is founded on the harmful cycle of having a panic attack and then worrying when the next will strike. Barry's 21-7 Technique™, within the Panic Away program, allows people to take back the power they've felt slipping away from them when they get anxious. There's no complex method to achieving these results (through having to understand why you had your first panic attack). You need only have the desire to end these negative experiences.
Because of Panic Away's easy yet effective methods, Dr. Dahlia Keen, a clinical psychologist from California, says that, "Panic Away is a useful, innovative, and insightful technique to take charge and eliminate panic. Its clever and empowering short handed phrases enable a person to detach from their anxiety and challenge it full force. Indeed – this can be the 'First-Aid' kit for anxiety."
Customer Dayna also found solace in the Panic Away program where previous methods and professionals couldn't help - "The doctors would always tell me, 'It's in your head.' I guess to a point it is in my head. People become overwhelmed with so much, and the anxiety and panic become worse. I have had so many hardships happen to me, and NOBODY cared. This is the first time someone has ever given me something I could truly heal with."
Panic Away can be downloaded instantly after an easy order online, or you can order the physical version which includes DVDs and CDs (as well as access to the online download) at: http://www.panicaway.com.
The Panic Away program was made by Barry McDonagh, UCD graduate, in 2001. It has since allowed many people to overcome their anxiety with little stress and difficulty. Panic Away has been sold in 32 different countries and has shown anxiety sufferers that the solution doesn't have to be countless steps long in order to work. Panic Away representatives are always willing to help with any questions and can be contacted at support(at)panicaway(dot)com.
###