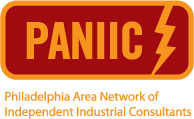 "The consultants in PANIIC are all top notch, proven professionals," comments Larry Chrzan, a PANIIC founding member. "High quality service, great results, experience and huge value are hallmarks of PANIIC members, without the high overhead of big firms."
Philadelphia, PA (Vocus/PRWEB) March 30, 2011
The Philadelphia Area Network of Independent Industrial Consultants (PANIIC) announces today that it has begun operating in the Greater Philadelphia Area. The PANIIC website is http://www.PANIIC.com.
PANIIC members provide results-driven consulting services for manufacturers, industrials, distributors, engineers and many other businesses. Consulting services include product design and development engineering, lean manufacturing, business growth services, ISO quality consulting, human resources business development, and internet marketing/search engine optimization (SEO). PANIIC's members bring years of experience, great ideas, proven skills and solutions, without all the overhead of large consulting firms. Because of this key advantage, PANIIC's consultants can deliver services quickly, efficiently and cost effectively.
PANIIC consists of nine consultants and seven different independent companies that have joined together to form this network. All nine PANIIC members have a wealth of knowledge and experience working with manufacturers, distributors, engineering firms, and many other industrial-focused, business-to-business companies. PANIIC's members typically serve companies in the Greater Philadelphia Area, including southeastern Pennsylvania, southern New Jersey and Delaware. PANIIC's members have a combined industry experience of over 100 years.
"The consultants in PANIIC are all top notch, proven professionals who have been delivering high quality services to clients for many years," comments Larry Chrzan, Principal of Blue Horseradish and a PANIIC founding member. "High quality service, great results, experience and huge value are hallmarks of the work of PANIIC's members. Clients aren't paying for the high overhead that is built into the cost structure of big consulting firms and other over-priced agencies. And all nine PANIIC consultants have worked together previously so we all know what each member can do."
PANIIC's Service Offerings
PANIIC members offer a comprehensive array of services, specializing in industrial-type B2B companies. Services are customized to each client and industry. These consulting services and their respective providers are:

Executive Coaching, Strategic Planning, Succession Planning, Lean, Executive Forums, Management Consulting - Business Growth Services, principal consultant Morrie Feinman offers hands-on, expert consulting services focused on increasing business value.
Human Resources and Business Development, Grant Writing, Technology Transfer, Strategic Alliances, University/Government Relations, Workforce Development, and International Trade Development - Center of Effort, LLC, principal consultant Mike Pahides offers a full suite of business consulting services designed to promote business growth and help companies and organizations succeed.
Lean Manufacturing Consulting - with two leading providers offering Lean Consulting, Lean Training, Value Stream Mapping, Lean Office
Prosit Consulting, principal consultant EJ Lydon has worked in manufacturing for over 25 years, with more than 10 years experience as a lean consultant delivering lean services with over 150 companies.
Industrial Management Services, principal consulant Tim Dromboski has a proven track record of delivering measurable results with services and training customized/personalized for each customer.
Quality Consulting - ISO Consulting, Quality Management Systems (QMS), ISO Training, ISO Audits, ISO Manuals - Delpha Quality Consulting, principal consultant Mike Delpha offers service-based ISO 9001 consulting with a results-oriented approach to lean quality consulting.
Product Design/Development Engineering - New Product Development, Engineering/Design Support, 2D and 3D CAD Modeling, Solid Modeling and Analysis, Material Selection - Triumph Engineering Group, principals Chris Yatsko and Len Wagner provide new product development engineering services to maximize a new product's functional capabilities while shortening its time-to-market.
Web Marketing, Search Engine Optimization (SEO), Search Engine Marketing (SEM)/Paid Search Advertising, Social Media Optimization (SMO), Local Search, Website Design/Development - Blue Horseradish, LLC, principals Larry Chrzan and Gary Barnes have worked on over 250 web marketing, SEO, social media and web development projects, specializing in B2B, manufacturing, engineering and industrial companies. Client results include millions of dollars in new and retained sales, with references available.
About the Philadelphia Area Network of Independent Industrial Consultants (PANIIC)
PANIIC is a group of independent consultants/businesses who together have over 100 years experience working for and providing services to manufacturers, engineers, and various other B2B/industrial companies. PANIIC members have previously worked with each other and have chosen to establish a network to offer current and new customers a wider range of services as well as enhance each others' businesses.
PANIIC members also have an extensive network of contacts with many other consultants and service providers with a variety of specialties.
Contact PANIIC
For more information or to inquire about any service offered by the Philadelphia Area Network of Independent Industrial Consultants, please contact PANIIC via their toll-free phone number 1-888-668-1101 or visit the PANIIC website. Each PANIIC member company has a page on the PANIIC website describing their services.
###