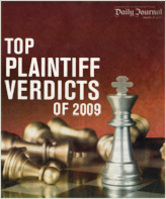 Michael Nelsen v. Hillyard, Inc., et al. is the second recent case Panish, Shea & Boyle LLP has successfully handled for an Iraqi war veteran.
Los Angeles, CA (PRWEB) February 11, 2010
As "California's Largest Legal News Provider," the Daily Journal is a highly trusted and reliable source for the latest in legal news and information. With sixteen publications, the Daily Journal provides communities throughout California with law firm news, recent court actions, profiles of judges, articles written by leaders in the legal field, and much more. To accumulate its list of Top Plaintiff Verdicts, the publication refers to the Daily Journal's Verdicts & Settlements database, asks for nominations from readers and consults bar associations throughout California. The Top Plaintiff Verdicts of 2009 list is the first to include a "High Impact" and "Top Arbitration" section in addition to the standard "Top Dollar Verdicts."
In being included in the Daily Journal's Top Plaintiff Verdicts of 2009, the Michael Nelsen v. Hillyard, Inc., et al. verdict is considered by the publication as a "High Impact" verdict due to the case's ramifications for the litigants and the larger community. After suffering permanent brain damage and other serious injuries in an auto accident caused by a negligent Hillyard van motorist, Mr. Nelsen, an Iraq War Navy veteran, was awarded $9 Million in economic damages and $12 Million in non-economic damages in the $21,067,093.53 verdict by a San Bernardino, California jury on October 16, 2009.
One of Mr. Nelsen's trial counsels, Brian Panish, stated, "It doesn't matter where your trial is or what kind of venue you're in – if you have a good plaintiff and a case that rings of truth you can recover the damage award. Show [the jury] what was lost, don't ask for sympathy and don't overdo it."
Brian Panish recently received the number 3 ranking in the Top 10 Southern California Super Lawyers 2010 list. He has also been identified as one of the Top 100 Southern California Super Lawyers every year since 2004. Brian Panish has obtained over 100 verdicts and settlements over One Million Dollars, including 10 jury verdicts in excess of Ten Million Dollars, and the largest personal injury and product liability verdict in history of $4.97 Billion Dollars. In working with Brian Panish, attorney Spencer Lucas has successfully recovered over 50 Million Dollars for his clients in cases involving catastrophic personal injury, wrongful death, products liability, and business torts.
Michael Nelsen v. Hillyard, Inc., et al. is the second recent case Panish, Shea & Boyle LLP has successfully handled for an Iraqi war veteran. The nationally recognized firm obtained a $13.5 million settlement for Army Chief Warrant Officer Juan Beltran who was injured during a maintenance test flight in Tikrit, Iraq. Panish, Shea & Boyle is dedicated to obtaining full and just compensation for their clients; serving those who have been afflicted by negligence in personal injury and wrongful death incidents.. For more information regarding the distinguished achievements of Brian Panish, Spencer Lucas, and the unmatched success record of Panish, Shea & Boyle, LLP, please visit http://www.psandb.com.
Michael Nelsen v. Hillyard, Inc., et al., Case No. CIVSS 800884
Superior Court of the State of California, County of San Bernardino
The Hon. Brian S. McCarville, presiding
###