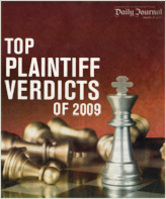 Los Angeles, California (PRWEB) July 9, 2010
The plaintiff's law firm of Panish Shea & Boyle LLP has been recognized in the June 28th edition of The Recorder for having one of the largest California verdicts in 2009.
The firm's $21,067,093.53 record jury verdict in the case Michael Nelsen v. Hillyard Inc. et. al. was ranked number 13 on the list of California's Million Dollar Verdicts. It was the largest verdict in California history for a stroke victim and is believed to be the highest personal injury verdict in San Bernardino County history. The Recorder is a leading provider of essential California legal content with both print and online publications relating to the business of law.
At trial, Panish Shea & Boyle LLP attorneys Brian J. Panish and Spencer R. Lucas represented Michael Nelsen, a 29-year-old Iraq War veteran from Orange County, California who suffered serious injuries when a Hillyard truck rear-ended the vehicle in which Mr. Nelsen was a passenger. Mr. Nelsen suffered a stroke as the result of his injuries leaving him with permanent brain damage. The case was previously selected as a High Impact Verdict of the Year by the Daily Journal in its 2009 Top Plaintiff's Verdicts publication.
Panish Shea & Boyle LLP is a personal injury law firm based in Los Angeles, California with lawyers who handle catastrophic injury, wrongful death and other serious accident cases throughout the state and nationwide. The firm's attorneys have been recognized among the 100 Most Influential Lawyers in California, as Trial Lawyer of the Year by various organizations, and consistently by Super Lawyers® and Best Lawyers® publications.
Panish Shea & Boyle LLP
11111 Santa Monica Blvd.
Suite 700
Los Angeles CA 90025
877-800-1700
Michael Nelsen v. Hillyard, Inc., et al., Case No. CIVSS 800884
Superior Court of the State of California, County of San Bernardino
The Hon. Brian S. McCarville, presiding
# # #