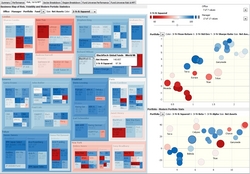 "Our customers will have the tools to... stay ahead of the fast-changing requirements of banks, mutual fund and hedge fund companies, particularly in the critical areas of trading, risk monitoring and analysis."
Stockholm, Sweden (PRWEB) May 20, 2010
Panopticon Software, the leading provider of data visualization software for monitoring and fast analysis of financial data, today announced a partnership with Sybase, Inc. (NYSE: SY), an industry leader in enterprise and mobile software, to offer an enhanced, interactive visual analysis interface for Sybase RAP – The Trading Edition®. Panopticon will now be able to connect directly to Sybase RAP – The Trading Edition as well as Sybase Aleri Complex Event Processing (CEP) engine.
Stuart Grant, Business Development Manager for Sybase said, "With Sybase RAP – The Trading Edition and CEP, we have developed a comprehensive platform for multi-frequency data management and analytics to support both large and medium-sized financial services operations. The addition of the Panopticon real-time Online Analytical Processing (OLAP) and visual analysis toolset will allow multiple user communities to achieve highly specialized yet bespoke visualization on a consistent view of data and analytics. As a result, our customers will have the tools to extract even more value from their existing Sybase platform and stay ahead of the fast-changing requirements of banks, mutual fund and hedge fund companies, particularly in the critical areas of trading, risk monitoring and analysis."
Willem De Geer, Managing Director of Panopticon, stated, "In the banking world, it's extremely important for senior managers to have clear visibility into trading activities, associated risk exposures and profitability metrics across the enterprise. Our data analytics tools make that enterprise-wide visibility easier. This agreement with Sybase provides another example of how our software can be integrated successfully into bank and fund companies' infrastructures."
The partnership will provide the unique combination of multi-dimensional visual analysis capabilities across real-time and historical event analytics coupled with the fastest and most scalable integrated in-memory and historical analytics platform available today. Capital markets firms can make efficient, intelligent use of data for their trading, quantitative analysis and risk management needs, combining streaming and intra-day analytics with historical trend analysis. Specific applications include Real-Time and On-demand Risk Analysis, Pre-Trade Analytics, Market Monitoring, Trading, Market Liquidity Analysis (MLA), Liquidity Management, plus business profitability analytics.
About Sybase
Sybase is an industry leader in delivering enterprise and mobile software to manage, analyze and mobilize information. We are recognized globally as a performance leader, proven in the most data-intensive industries and across all major systems, networks and devices. Our information management, analytics and enterprise mobility solutions have powered the world's most mission-critical systems in financial services, telecommunications, manufacturing and government. For more information, visit http://www.sybase.com. Read Sybase blogs: http://blogs.sybase.com.
Sybase and RAP - The Trading Edition are trademarks of Sybase, Inc. ® indicates registration in the United States of America. All other company and product names mentioned may be trademarks of the respective companies with which they are associated.
Special Note: Statements concerning Sybase RAP - The Trading Edition are, by nature, forward looking statements that involve a number of uncertainties and risks, and cannot be guaranteed. The words "anticipate," "believe," "estimate," "intend," "will," and similar expressions relating to Sybase and its management may identify forward-looking statements. Such statements are intended to reflect Sybase's current views with respect to future events, and may ultimately prove to be incorrect or false. These and other risks are detailed from time to time in Sybase's Securities and Exchange Commission filings, including, but not limited to, its annual report on Form 10-K and its quarterly reports on Form 10-Q (copies of which can be viewed on Sybase's Web site).
For more information, contact:
Danielle Cook/Lauren Wood
+44 (0)1628 628080
Sybase(at)noiseworks(dot)com
About Panopticon
Panopticon information visualization technology supports visual monitoring and fast analysis of real-time data, the output of CEP engines and historical databases in financial services, telecommunications, engineering, consumer packaged goods, industrial manufacturing, and retail applications. The company's Developer SDK supports Java, .NET and WPF environments and allows programmers to embed Treemaps, Heatmaps and other effective business intelligence capabilities into their own enterprise applications. Panopticon EX is a fully productized white label solution supporting rapid deployment to desktops and the web. Clients include information services company Thomson Reuters, financial giant JP Morgan Chase, project management firm Deltek, and telecommunications systems provider Polystar. The company has offices in New York, Boston, London and Stockholm.
For more information, contact:
Hugh Heinsohn, VP Marketing
+1 503 360 4844
hugh(dot)heinsohn(at)panopticon(dot)com
http://www.panopticon.com
All trademarks used herein, whether recognized or not, are the properties of their respective companies.
# # #