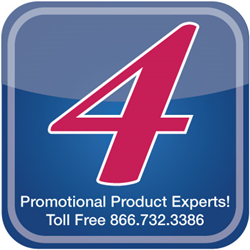 Essex, Ct (PRWEB) December 18, 2014
Each year 4AllPromos gears up for the big announcement of Pantone's color of the year because that means there is bound to be an influx of orders for promotional and custom imprinted products showcasing the new, trendy color. It's almost 2015, which Pantone has selected marsala, a color described by the experts as an earthy shade of red.
Reddish tones are bold and powerful. According to ColorMatters.com the color red can feelings of energy, passion and adventure. If you think about it many major brand names in America use red in their logos including Coca-Cola, Jell-O, Band-Aid and Target. Conversely, red can signal danger and caution so it can also be used to alert people through signage and other applications. Either way reddish tones grab the attention of the audience.
Marsala colored items such as fashion apparel, jewelry, makeup shades, home décor and other trendy items are sure to start popping up in popular stores any day now. The Pantone color experts carefully select the color of the year by study trends in pop culture and society around the world. Leatrice Eiseman, the executive director of Patone said, Much like the fortified wine that gives marsala its name, this tasteful hue embodies the satisfying richness of a fulfilling meal, while its grounding red-brown roots emanate a sophisticated, natural earthiness. This hearty, yet stylish tone is universally appealing and translates easily to fashion, beauty, industrial design, home furnishings and interiors."
Color is an important marketing and advertising tool. Customers identify with colors and symbols with some of their favorites brands and products. Many of 4AllPromos products can be matched to Patone specific colors, which means businesses can stay on trend with unique, marsala colored products. 4Allpromos knowledgeable product specialists can help office managers, party planners, small businesses and schools select the perfect item and color to suit the needs of the event or advertising campaign.
Past Pantone colors of the year recipients can still be found trending in the world of fashion and décor. Older color of the year winners include: radiant orchid (2014), emerald (2013), tangerine tango (2012), honeysuckle (2011) and turquoise (2010). Not into marsala? Try one of these bold colors instead!
4AllPromos is the leading online supplier of promotional and custom imprinted products including tote bags, drinkware, gourmet snacks and candy, apparel, office supplies and party favors. For more information about products from 4AllPromos visit http://www.4allpromos.com or call a product specialist at 1-866-732-3386.