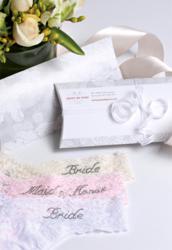 The enclosed gift card, tissue and packaging is a beautiful reminder of rich traditions.
(Vocus/PRWEB) March 22, 2011
Leading up to the big day, there are so many details to organize, right down to finding the perfect lingerie. Now PantybyPost.com can help with that huge wedding to-do list! Let Pantybypost.com take care of the bride with the new launch of their bridal line.
Don't become a bridezilla or create unnecessary frown lines before you say "I do". PantybyPost.com offers perfect gifts for the wedding party, right down to the Something Blue.
The bride will be adorned in many outfits celebrating the nuptials and to match them all she will need the right lingerie (view our gallery). What better way to celebrate style, elegance, romance and an appreciation for the finer things in life than with French lingerie? Start off a new life together by having French lingerie that doesn't break the wedding budget.
The Packages for the Bride:
1. Hanky Panky 'bride' is a bejeweled light as air thong that says 'bride' in low rise or original in ivory, white or blue ($38).
2. The Garter is like your soon-to-be husbands lips, a perfect fit ($16).
3. Three Hanky Panky thongs is a mix perfect for your honeymoon, sweet and soft, sexy and sassy ($84 for a Pack of 3).
For the Ladies:
1. Hanky Panky 'bridesmaid' is a thong worthy of your best of friends and says 'bridesmaid' in low rise or original in pink ($38).
2. Hanky Panky 'maid of honour' is for your second in command and says 'bridesmaid' in low rise or original in black ($38).
Gifts All Year Long:
Order a single or stay on the new hubby's mind month after month with a sexy surprise by signing up for a three, six or twelve month subscription from the Signature Blush Line.
PantybyPost.com will ensure that your package will arrive every month for the duration of your package, ensuring your first year of marriage is extra romantic and oh so French (ooh la la)!
For the Groom and his Men:
Our Men's Store are ideal for groomsmen gifts and for the groom himself. The stylish bamboo pocket boxers are specifically designed for fitted clothing, tailored suits and that smokin' tux. The natural fiber briefs arrive in the post in a selection of colours: charcoal or black (1 for $30, 2 for $55, 3 for $80). Visit our Men's Only room for tips, ideas and gallery.
It's the perfect gift solution, and everyone will love you for it (especially the new hubby, wink).
How to buy:
Online: http://www.pantybypost.comor email info(at)pantybypost(dot)com for personalized service
Call: 1-888-707-2659 in North America, 7 days a week, 8am to 10pm PST
Europe Call: 011-604-307-9642
We ship worldwide, accept all currencies, VISA, MC and AMEX
What is PantybyPost.com?
Panty by Post is a monthly subscription service that sends French panties in the mail to your loved one. There are many styles to choose from and two different lines. It's simple and convenient to use, go to http://www.pantybypost.com, select the duration of the package (1X, 2 at 1X, 3X, 6X or all year long, 12X), the style (thong, bikini, hipster or mix) and size (we carry extra small to plus sizes).
What is a Hanky Panky thong?
Hanky Panky began in 1977 when designer Gale Epstein made her best friend a panty out of her hanky (a great idea was born). Hanky Panky thongs are known as the world's most comfortable thongs and are ethically produced of the finest fabrics made in the USA.
To order, it's simple and convenient to use, go to http://www.pantybypost.com, select the duration of the package (1X, 2 at 1X, 3X, 6X or all year long, 12X), the style (thong, bikini, hipster or mix) and size (we carry small to plus sizes). We take care of the rest! Read about our story here.
http://www.PantybyPost.com
Ordering is affordable, easy and fun; packages include: 1X, 2 at 1X, 3X, 6X or all year long, 12X.
Worldwide Delivery | All Currencies Accepted
# # #