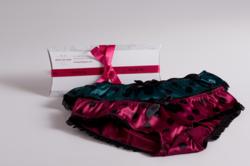 Every month I get a new panty and it feels like each one was selected especially for me.
(PRWEB) September 19, 2011
PantyByPost.com is the top gift giving ideas of 2011.
Just in time for the holidays, here's the best gift for that special lady! After hours of researching the best gift giving ideas of 2011, this service by far is the top. PantybyPost.com is a new service being offered worldwide to help men find their lady the perfect present. It's so hard to find the perfect gift (birthdays, Christmas, Valentine's Day, engagement, wedding etc.). PantybyPost.com can help with this thoughtful, unique and generous gift.
It is well known that when a guy presents the perfect gift to his wife or girlfriend, then life just got a whole lot easier and better. When that gift is easy as pie to buy online and someone else delivers it monthly by post beautifully packaged (whew!). Everything is taken care of and so simple.
Guys can't go wrong with this monthly subscription. Send a thoughtful gift, complete with a romantic note and order it in a matter of minutes, online, without ever having to enter a mall or store! There is no doubt, she will be delightfully surprised when the postman delivers a beautiful package, with a sexy pair of panties, from her man. Then think of the fun when she calls to come over and model them? Experience this pretty panty together, every month!
There are many styles to choose from and two different lines, our Signature Line and Bridal Line. It's simple and convenient to use, go to pantybypost.com, select the duration of the package (1X, 2 at once, 3X, 6X or all year long, 12X), the style (thong, bikini, hipster or mix) and size (they carry extra small to plus sizes). We take care of the rest! Or, call toll free for personalized service. We also offer gift certificates, which is always the right choice.
CAN WE SEND YOU A SAMPLE TO ENJOY?
Merci,
Natalie Grunberg
###