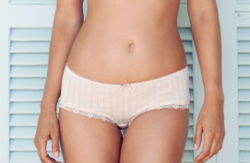 Vancouver, B.C., Canada (PRWEB) November 15, 2011
PantybyPost.com has come up with a way to offer luxury to fit any budget. This holiday season should be about feeling good about gift giving and what better way to do that then with a luxurious and sexy panty by post for just $30. Spend wisely on loved ones when you send a panty or a men's bambou brief by mail worldwide. This precious little package comes gift wrapped, with a handwritten note and a unique panty or bambou brief folded inside. These special tokens of affection will go a long way to sharing the joy of the season.
PantybyPost.com is a new panty subscription service being offered for special occasions like birthdays, Christmas, Valentine's Day, engagements and weddings. There are many styles to choose from and two different lines, our Signature Line and Bridal Line.
Just in time for the holidays, send a thoughtful gift, complete with a hand written note. Order it in a matter of minutes, online, without ever having to fight the crowds at the mall or store. It's simple and convenient to use, go to pantybypost.com, select the duration of the subscription (1X, 2 at once, 3X, 6X or all year long), the style (thong, bikini & hipster, or mix) and size (xs to 4xl). PantybyPost.com takes care of it all! Or, call toll free for personalized service. PBP sells gift certificates, for those who are uncertain of specifics.
For more information or a sample to review please contact:
Natalie Grunberg, President
Email: natalie(at)pantybypost(dot)com
Direct line: +1-604-307-9642
Toll free from Canada or USA: +1-888-707-2659
Image requests
High resolution images of our logo, products and look book fashion shots can be obtained by emailing natalie(at)pantybypost(dot)com.
###