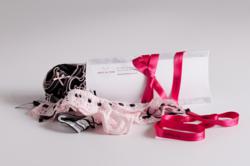 I am so excited about the Panty by Post for Lemon Curve subscription service. It's the perfect blend of French style and North American service.
Paris, France (PRWEB) October 25, 2011
Panty by Post, a women's luxury online panty subscription service, sells panty subscriptions to the sexy women of the world. Panty by Post is thrilled to announce a partnership with the newly unveiled LemonCurve.com. Lemon Curve, the chic new online shopping site based in Paris, offers a wide selection of bras and panties for purchase online. Panty by Post has exclusive panty subscription packages available through LemonCurve.com specifically for their France based customers.
Panty by Post is an online subscription service based in Vancouver, Canada which sends you a pretty, French-inspired panty in the mail monthly. PBP brings back the nostalgia of receiving a wonderful surprise in the mail! Enticing styles (hipster, thong, bikini) and subscription options are presented, such as: 1X, 2 at once, 3X, 6X and all year long (receive 12 panties per year). A variety of thoughtful packages can be ordered for the bride, curvaceous gals and men too. A Panty by Post subscription also makes an ideal gift, reminding the recipient of the gift giver's thoughtfulness each month.
Preparations for the Panty by Post and Lemon Curve launch in Paris have been underway for months and media exposure for the partnership has started with La Nouvelle Edition and the popular Be.com.
Panty by Post is confident that the service will appeal to French consumers. The exclusive products will fill a market niche for quality, fashion and value which is missing in the French marketplace. Moreover, France's tech-savvy consumers are increasingly looking to e-commerce to enhance their access and choices, especially outside of Paris.
For more information or an interview please contact:
International
Natalie Grunberg, President
Email: natalie(at)pantybypost(dot)com
Direct line: +1-604-307-9642
Toll free from Canada or USA: +1-888-707-2659
Image requests
High resolution images of our logo, products and look book fashion shots can be obtained by emailing [email protected]
# # #