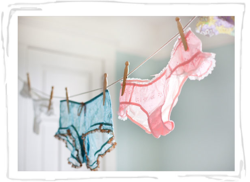 Gift giving is very big here in Moscow and now we have an easy way to do it. I can't believe how good an idea this is.
(PRWEB) October 06, 2011
Panty by Post launched Ru.PantybyPost.com in Moscow this summer, months before the mega lingerie retailer Victoria Secret opened in the city the never sleeps. Currently the undergarment market in Russia is valued at $2.6 billion. Russian women are among the most beautiful and fashionable women in the world. Ru.PantybyPost.com came just in time to cater to the growing market of upwardly mobile women and men, interested in affordable luxury and new concepts for gift giving.
Panty by Post, the women's online panty subscription service, is thrilled to announce that we have launched in the Russian market.
Panty by Post is an online subscription service based in Vancouver, Canada which sends a pretty, French-inspired panty in the mail monthly. PBP brings back the nostalgia of receiving a wonderful surprise in the mail! Enticing styles (hipster, thong, bikini) and subscription options are presented such as: 1X, 2 at once, 3X, 6X and all year long (receive 12 panties per year). A variety of thoughtful packages can be ordered for the bride, curvaceous gals and men too. A Panty by Post subscription also makes an ideal gift, reminding the recipient of the gift giver's thoughtfulness each month.
Preparations for the Panty by Post launch in Russia have been underway for months now, fed by a strong local partnership with Interstice Consulting, headed up by Leighton Prabhu. Interstice Consulting is providing Russian-language customer service and supporting local marketing and public relations initiatives, including developing social media groups on specific Russian media properties.
"Panty by Post's service is sure to be a winner amongst Russian consumers, and we are offering new brands known worldwide for their style and quality, previously unavailable in the market. Moreover, as a Canadian, I also have a personal connection to the company and am proud to represent them in Russia," Prabhu says.
But why launch a localized Panty by Post website, and, why Russia?
Panty by Post is confident that our service will appeal to Russian consumers. Our exclusive products will fill a market niche for quality, fashion and value which is missing in the Russian marketplace. Moreover, Russia's tech-savvy consumers are increasingly looking to e-commerce to enhance their access and choices, especially outside of Moscow.
The emerging markets will provide the majority of growth in future Internet users and e-commerce consumers (link to Interstice Consulting research report on Russian e-commerce). Russia will soon overtake Germany as the largest Internet user base in Europe, and the retail market offers great opportunities for growing the Panty by Post business.
At the same time, finding an experienced and reliable local partner in Interstice Consulting was key in deciding to move forward, as Russia presents unique legal, linguistic and logistical challenges. Online marketing is also different in Russia, as such leading global players as Google and Facebook are eclipsed by their Russian competitors.
For more information or an interview please contact:
International
Natalie Grunberg, President
Email: natalie(at)pantybypost(dot)com
Direct line: +1-604-307-9642
Toll free from Canada or USA: +1-888-707-2659
In Russia
Leighton Peter Prabhu, Partner
Interstice Consulting LLP
Email: lsp.prabhu(at)intersticeconsulting(dot)com
Direct line: +7-916-404-9752
Image requests
High resolution images of our logo, products and look book fashion shots can be obtained by emailing natalie(at)pantybypost(dot)com.
###