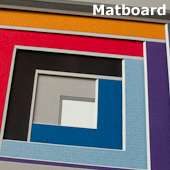 We recommend the new Papermat for non-conservation, decorative picture framing and general presentations.
Dallas, TX (PRWEB) November 28, 2012
Mark Rogers, founder and president of Frame Destination, Inc., an online retailer of picture frames and framing supplies, announces that his online store has started carrying a new brand of mat board that offers some high-end features, without a high-end price. The new white core paper mat board is perfect for general and decorative framing or as a cost effective mat for non-conservation applications.
Frame Destination's original paper mat board has a core with an off-white color. The company's new Papermat offering features a pure white core that provides a sharp, distinct and clean border for paintings and photographs. The new Papermat mat board product is available in both standard windowed ready to use cut as well as uncut blanks and full size 32x40 raw sheets for framers cutting their own mats. Customers can choose from single, double or triple mat.
What is most exciting about the new product however is the wide range of colors. Earth tones in rich - but not overstated - browns and greens, suitable for framing landscapes and nature scenes or paintings on canvas make up many of the colors available. There are also metallic choices, including "Classic Gold" and "Silver," which are fine to use with art photography - and go beyond the standard black or white typically used for this purpose.
Mr. Rogers says, "We recommend Papermat for non-conservation, decorative picture framing and general presentations." He adds that Papermat mat board is fine for posters and other types of decorative art as well as "open-ended reproductions," such as prints. "And, if you're not sure about the color, you can order our Color Mat board Sample Kit for only $5.32 plus shipping," Mr. Rogers tells us. The Sample Kit includes 2" x 5" swatches of all thirty colors.
The staff of Frame Destination is excited about this new product, and believes it will open up more creative possibilities for those who design and assemble their own picture frames.
ABOUT FRAME DESTINATION: Frame Destination, Inc. is an Internet-based retail operation with production facilities located in Dallas, Texas offering supplies for picture framing and ready made frames. The company has been in operation since January of 2004 and has an "A+" rating from the Better Business Bureau. Founder and President Mark Rogers has been featured in the journal Entrepreneur Magazine and the book Weekend Entrepreneur by Michelle Anton and Jennifer Basye. The company is located online at http://www.framedestination.com, and can be reached by telephone at 1.877.5FRAMES.