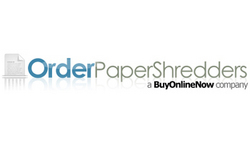 We wanted to make shopping for paper shredders as quick and easy a process as possible, so we designed OrderPaperShredders.com to be very self-explanatory and informative, but we also wanted to make sure those customers who called or e-mailed with any further questions would be greeted by friendly staff who really know a lot about paper shredders
Rochester, MN (PRWEB) March 19, 2008
OrderPaperShredders.com - A new, online store specializing in paper shredders hopes to give customers an added sense of security with their giant selection of paper shredders, and highly trained customer service personnel. OrderPaperShredders.com stocks paper shredders from top manufacturers such as Fellowes, GBC and more.
OrderPaperShredders.com was designed to be an easy to navigate and informative resource for people searching the internet for paper shredders. OrderPaperShredders.com focused on making the selection of a paper shredder as pain-free as possible, using a simple, straightforward category system that divides paper shredders by their manufacturer (name brands such as Fellowes, GBC paper shredders, Questa and more), security level (Strip-cut, Cross-cut or Micro-cut shredders), and usage amount (daily usage limits). OrderPaperShredders.com is a sister company to BuyOnlineNow.com, an online office supply superstore, and BuyOnlineNow.net, its Canadian equivalent.
BuyOnlineNow.com has steadily grown into one of the top office supply retailers online with an enormous selection of office products and office furniture. Paper shredders have always been a very popular item. It was felt that creating a separate web store based around a specific item would be very beneficial for customers who were not in the market for many different office supplies. The choice was made to open a paper shredder store because of their immense popularity, as well as the ability of BuyOnlineNow to offer a large selection of paper shredders at very competitive prices. Also, the customer service department of BuyOnlineNow has had direct training and product demonstrations by top manufacturers in the paper shredder industry including Fellowes and GBC, and even uses Fellowes paper shredders as well as all the brands they carry in their offices. This gives them an opportunity to provide excellent customer service based on personal experience.
"We wanted to make shopping for paper shredders as quick and easy a process as possible, so we designed OrderPaperShredders.com to be very self-explanatory and informative, but we also wanted to make sure those customers who called or e-mailed with any further questions would be greeted by friendly staff who really know a lot about paper shredders," said Director of marketing, Jeremy Nelson.
About OrderPaperShredders.com
Opened in March of 2008, OrderPaperShredders.com is a BuyOnlineNow company focused on providing excellent customer service, great prices and fast shipping on the best paper shredders in the world.
About BuyOnlineNow
Providing office supplies and office furniture to individuals and business in the United States for the last 7 years, BuyOnlineNow.com carries over 30,000 products in 85 distribution centers nationwide. BuyOnlineNow.com has been included in Inc. Magazine's list of the fastest growing private companies in America for 2005, 2006 and 2007 and in Internet Retailer Magazine's Guide to the top 500 online retailers for 2006. BuyOnlineNow.net, opened in March 2007, is the newest and first international member of the BuyOnlineNow family. BuyOnlineNow.net offers over 9,000 office products stocked in 5 warehouses throughout Canada.
###