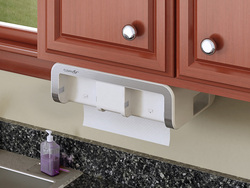 The CleanCUT™ was designed with precision and functionality in mind, unlike many products that are rushed to market today
Pitman, NJ (PRWEB) March 24, 2009
Smart Product Innovations (SPI)] set out with a lofty goal when development began on the CleanCUT™: Their mission was to produce a sanitary, easy-to-use automatic paper towel dispenser with no-touch operation, no-waste length control, the ability to handle any paper towel brand or size and a repeatable, fast self-sharpening blade. This was achieved through six years of development and reliability testing, with over 500 units in the field and having been featured in ABC'S Extreme Makeover:Home Edition season finale. The CleanCUT™ will be unveiled at the 2009 Housewares Show as an everyday appliance that consumers will love.
For the past six years consumers have dispensed and cut millions of paper towels using the CleanCUT™ dispenser. Any brand or size paper towel works in the CleanCUT™, and it dispenses any length sheet on demand, so the consumer gets exactly the amount they want with no waste. With hands free operation, it eliminates cross contamination and sanitation concerns. More importantly, there is no frustration that comes with the inconsistent performance of restroom type automated towel dispensers. That is because the CleanCUT™ uses a constant and safe infrared beam, comparable to the technology used with a TV remote control. Break the dispense beam and the paper towel instantly unrolls. When you have dispensed the length you need, just break the beam again to cut the towel. The CleanCUT™ dispenser installs easily under a cabinet, keeping counters clutter-free.
SPI partnered with an award winning design team, which has taken SPI'S proven and tested technology to a price point that will allow SPI to bring it to the mass consumer market. "The CleanCUT™ was designed with precision and functionality in mind, unlike many products that are rushed to market today," says Tom Little, Director of Marketing. "At Smart Product Innovations we only launch products that have sustainable, proven designs. This is not a battery- operated toy. It is a kitchen appliance workhorse that will be the most used appliance in homes." CleanCUT™ is a breakthrough solution to the frustrations of current paper towel dispensers, and consumers love it!
According to event coordinators, the show is the world's largest home goods & house wares marketplace, showcasing thousands of new products and designs in four related product expos with 60,000 attendees expected.
Smart Product Innovations representatives will be located at booth #N8746 in the Clean + Contain Product Expo (next to the Buyers Club) and coordinated private meetings in an effort to establish future sales. Interested parties can schedule a pre or post show meeting by contacting Tom Little at tlittle@smartproductinnovations.com or calling at (856) 718 5979.
"Exhibiting at a show as distinctive as the International Home + Houseware Show is a real opportunity to show the world the capabilities of our CleanCUT™Automatic Paper Towel Dispenser. Smart Product Innovations representatives will be conducting live demonstrations of the CleanCUT™ and also meeting with relevant industry professionals and the media. We are very excited to be at this show," said Tom Little.
Smart Product Innovations is an experienced manufacturing/design firm bringing great minds together to offer premier consumer lifestyle products to the market. SPI plans to market and sell the CleanCUT™Automatic Paper Towel Dispenser through catalogs, magazines, online and major retail and specialty stores.
To see the CleanCUT™ featured on HGTV'S "I WANT THAT" or to obtain further information visit http://www.smartproductinnovations.com
###