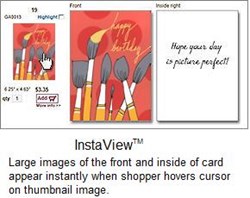 InstaView™ is arguably the most significant innovation in greeting-card product presentation since the invention of the display rack.
Arlington, VA (PRWEB) May 15, 2013
An entrepreneur has been issued a patent on the InstaView™ system for browsing greeting cards online. InstaView is arguably the most significant innovation in greeting-card product presentation since the invention of the display rack, more than a hundred years ago.
InstaView empowers shoppers to browse cards 5x faster than in a store—making obsolete both the traditional in-store shopping experience and the experience offered at other websites.
PaperCardShop.com is the only greeting-card website with the patented InstaView technology.
Glen Homan's personal experience was the genesis of the InstaView patent and of PaperCardShop.com, a retail ecommerce site that he founded. Homan needed an anniversary card for his wife and drove to a local pharmacy in Arlington, VA. After spending 10 minutes taking cards in and out of a display rack, he decided there had to be a better way to shop for greeting cards.
Product presentation is a challenge for stores that sell greeting cards. Consumers need to see both the front and inside of the card, but only the front of the card is visible in a display rack, and generally only the top third of the front shows. So consumers must lift each card out of the rack, open it up, and put it back in the rack.
Cards in protective cellophane sleeves are especially a problem.
Greeting-card shoppers may look at 20-30 cards for every card they purchase. Often shoppers spend 5-10 minutes searching for a single card.
Although greeting-card websites do offer the convenience of online shopping, the browsing experience that other websites provide, Homan asserts, is no better than the in-store shopping experience.
To see large images of the front and inside of a card, users on other websites typically must click on a thumbnail image and wait for another window to open on their browser. Then the user must click to close the window. This two-click process becomes tedious quickly, especially if poor website coding or a slow Internet connection exacerbates the problem.
Many greeting-card websites do not even provide an image of the inside of the card, but rather simply state the message.
InstaView, which is available only at PaperCardShop.com, solves the slow-browsing problem, empowering consumers to browse cards 5x faster than in a store.
Here's how InstaView works. Hovering the cursor on a thumbnail image causes large images of both the front and inside of the card to appear instantly. Moving the cursor off the thumbnail causes the large images to disappear.
Shoppers can move the cursor quickly from thumbnail to thumbnail, reviewing cards of interest to them, as shown in the video accompanying this release.
The InstaView patent is an application of rollover-image technology. The focus of the patent is narrow, applying only to greeting-card websites.
Homan says that some consumers find InstaView almost addictive. "People who are into cards get mesmerized by how fast they can browse cards on the screen. They are curious to see what the cards associated with the thumbnails look like. They find it liberating compared to the in-store experience."
A review of actual orders on PaperCardShop.com indicates that InstaView increases average order size by an estimated 10-20%.
"Greeting cards," Homan states, "are an open-ended purchase. Greeting-card shoppers often buy more cards than they initially plan. Industry studies show that women are especially likely to purchase additional cards. Making browsing for cards fast and fun ratchets up the tendency for shoppers to buy more cards."
Paper greeting cards is a $7.5 billion market at retail, according to the Greeting Card Association (GCA).
Interestingly, e-cards have not significantly impacted paper cards. A study by the GCA found that more than 20 paper cards are sent for every e-card that is sent.
Unlike physical-store retailers in categories like books, paper greeting-card retailers so far have been largely unscathed by the Internet. Homan estimates that online penetration is only 1-2%, making paper greeting cards one of the last untapped ecommerce niches.
Longer term, Homan believes InstaView may have a more profound effect than increasing average order size. "InstaView provides a breakthrough improvement in the shopping experience," Homan states. "It may disrupt the paper greeting-card industry and move demand online. Greeting-card shoppers finally have a good reason to buy cards online."
"The transformation in grocery retailing that began in the 1920s may offer an analogy," Homan suggests. "Supermarkets with open display units replaced grocery stores with behind-the-counter service, as consumers demanded a more efficient and convenient way of shopping."
"InstaView is especially an incentive for heavy users to shop online," Homan continues. "These consumers, who buy 50+ cards a year, can save hours of time."
PaperCardShop.com is the only website that has InstaView. However, InstaView is just part of the website's attraction, according to Homan. "PaperCardShop.com offers a curated shopping experience. We cherry-pick the best cards from more than 100 publishers, so that we can offer a uniquely appealing collection of cards.
"In addition, we carefully photograph the cards to capture subtle features like paper texture and embellishments. It's almost as good as seeing the physical card."
Many of the cards at PaperCardShop.com are hard-to-find cards from boutique publishers, including handmade cards. In addition, the site offers a large selection of mainstream cards. The website offers cards for both occasions like birthdays and holidays like Christmas.
A seasoned entrepreneur and Harvard Business School graduate, Homan earlier sold a chain of print and poster galleries to a public company.
"I came out of semi-retirement to launch PaperCardShop.com because I feel it meets a real consumer need, even if it's a need that most consumers are not yet acutely aware of," Homan says. "People waste millions of hours each year taking cards in and out of display racks—often settling for cards that are merely 'acceptable.'
"PaperCardShop.com offers consumers a far better way to shop for greeting cards. Eventually the market will move our way."
The US Patent and Trademark Office issued Patent No. 8,442,870 on the InstaView greeting-card browsing system on May 14, 2013. Pillsbury Winthrop Shaw Pittman provided legal counsel.
About PaperCardShop.com LLC
PaperCardShop.com wants to change the way people shop for paper greeting cards. The company's website features InstaView™, a patented system for browsing cards online. With InstaView, shoppers can browse cards 5x faster than in a store. The website offers a curated collection of fine greeting cards, including hard-to-find cards from boutique publishers. The company screens thousands of cards from more than 100 publishers to offer a uniquely appealing collection of cards. Please visit us at http://www.papercardshop.com/.