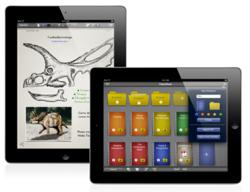 We're excited about our new beginning at the Tech Brewery and participating in the Silicon Valley of the Midwest
Ann Arbor, MI (PRWEB) May 31, 2012
Scott and Lida Hasbrouck, the innovators behind PaperDesk, are moving to the Tech Brewery Building in Ann Arbor, Michigan. This move comes as they're developing a new startup business called Ginkgotree, Inc. Their bring some new talent into the team, including a new iOS developer, a 3D animator, and a graphic designer.
The Tech Brewery building is located on Jones Drive in Ann Arbor. The 2,000 square foot space, which has loft style offices, is a fertile ground for tech startups. Innovators housed here share resources as well as an entrepreneurial spirit to excel in their inventions. A full list of startups housed in there can be found on the Tech Brewery website.
While Ginkgotree, Inc. will focus on applications for education, it's still under development. It is clear, however, that having successful innovators such as the Hasbroucks working at the Tech Brewery will be another progressive step towards Ann Arbor's future in technology; especially given their success with the educational app, PaperDesk. The Hasbroucks agree. "We're excited about our new beginning at the Tech Brewery," states Lida Hasbrouck "and participating in the Silicon Valley of the Midwest."
Scott and Lida Hasbrouck are independent developers and owners of WebSpinner, LLC. Their greatest development to date is PaperDesk, a note taking app developed with educational purposes in mind. PaperDesk is joining iPads in replacing traditional notebooks used in schools. It is efficient in meeting the note-taking needs of educators and students worldwide. PaperDesk is available in the App Store.
For more information on the Hasbroucks' move to the Tech Brewery and their educational focus on technology, contact Scott and Lida Hasbrouck at (404) 585-7037.