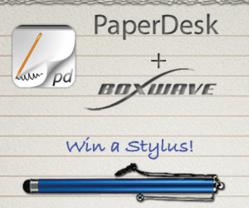 We wanted to let our users shape the face of PaperDesk, and we couldn't think of a better way than by letting them design the screen shots
Ann Arbor, MI (PRWEB) April 21, 2012
The developers behind PaperDesk announced an all new way to shape the face of one of the most popular iPad note taking apps: let the users make the screen shots for the App Store. In a new contest sponsored by Boxwave, users can enter a screen shot of their notes or drawings on the PaperDesk Facebook page. Ten winners will be chosen to receive a free stylus of their choice, and will have their designs used as a screen shot for the app in the App Store, to be seen by millions of iOS users. "We wanted to let our users shape the face of PaperDesk, and we couldn't think of a better way than by letting them design the screen shots," said PaperDesk developer Scott Hasbrouck. The contest is now open for entries until midnight on Sunday, April 29th.
This contest is a continuation from a new initiative of WebSpinner to expand user interaction, which included a partnership with FreeMyApps, a new blog, and a Boxwave stylus giveaway. For the past two weeks, PaperDesk has been available for free on FreeMyApps.com. Users try FreeMyApps sponsor apps, earn credits, and redeem premium gift apps at no cost. Now, instead of paying $3.99, users can download PaperDesk for 640 FreeMyApps credits. In the first week of availability, nearly 500 users downloaded PaperDesk for free on FreeMyApps.
Users can stay up-to-date with promotions and news about PaperDesk on the official PaperDesk website, or by following @mypaperdesk on twitter.
PaperDesk, one of the first full-featured note-taking apps on the iPad, saw immediate success and has been frequently featured in the App Store, as well as spotlighted in TUAW and PadGadget. Most recently, the app has been headlined by ZDNet and Gizmodo, and it remains a high-ranking app in the App Store's Productivity section.
PaperDesk is available on the App Store for $3.99, or for free on FreeMyApps.com.
PaperDesk performs beautifully on all three generations of the iPad, and its latest update is specially designed to include high-resolution support for the new iPad Retina display.