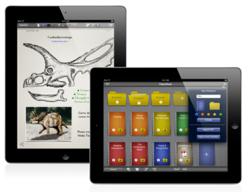 We have everyone from math teachers to football coaches tell us they use PaperDesk as a whiteboard or Powerpoint replacement
Ann Arbor, MI (PRWEB) April 30, 2012
With the release of iBooks 2, many schools have begun a transition away from traditional paper textbooks. However, books are not the only traditional classroom item that iPads can replace. iPads have not yet completely replaced pen and paper in schools with iPad pilot programs, but there is certainly a transition away from traditional notebooks in classrooms. The developers behind PaperDesk have spent the past two years tailoring the app for schools, largely from input received from educators. The app offers a colorful and intuitive navigation system that even young students can learn to use quickly, but it also offers a robust tool set that educators can use to instruct.
"We have everyone from math teachers to football coaches tell us they use PaperDesk as a whiteboard or Powerpoint replacement in lectures," said lead developer, Scott Hasbrouck. "Teachers also use PaperDesk to issue homework to students. They can email them a PDF of the assignment, the student can complete the assignment in PaperDesk, and then email it back to their teacher," he continued. To give schools flexibility over how the app shares files, the developers have included support for Google Docs, Dropbox, and numerous other ways to send and receive notes. Additionally, WebSpinner plans to add support for Evernote and WebDAV in the near future.
Neutral Bay Public School in Sydney, Australia, has issued all 145 of their year 6 students iPads, each loaded with PaperDesk. The students use PaperDesk for note taking in class, and for fun. ''It's better than writing in books,'' said Charlotte Prichard, an 11 year old student at the school.
PaperDesk is available on the iTunes App Store for $3.99, and is discounted 50% for educational institutions purchasing the app in bulk. The app runs beautifully on the new iPad retina display, and is compatible with all three generations of the iPad. PaperDesk is now also available for free on FreeMyApps.com, where users download sponsor apps to earn credits, which can be used to download paid apps for free.