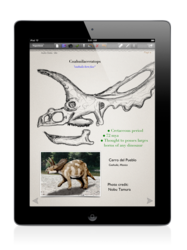 We love showing our appreciation by improving PaperDesk.
Ann Arbor, MI (PRWEB) September 14, 2012
Now that PaperDesk's most recent update is available in the app store, users will enjoy many new features, including support for Box, the iPen (by Cregle, Inc.), pinch-zoom, new quick pens with Retina-quality ink, and RTL (Right-To-Left) language support. It's been nearly 3 months since the team released the last update. This update, Version 4.2, is said to answer many customer requests, in addition to stepping forward to take advantage of the iPen, a popular iPad accessory KickStarter project.
"We appreciate that many of our users contact support to praise or request a feature. We love showing our appreciation by improving PaperDesk," relays PaperDesk's tech support contact, Lida Hasbrouck.
In addition to many other exporting options, PaperDesk now also lets you export specific notebooks or pages via Box, a leader in both consumer and enterprise file sharing. In the future you can also expect to see full Box integration, to include automatic note syncing and backup.
Users can now ensure perfect wrist-ignore with the iPen, since it functions as an active stylus, rather than using capacitive technology as other styluses do. The iPen wirelessly communicates with an external receiver which plugs into your iPad's UART (charging) port. After set-up, you use the iPen as you would any other stylus.
Those who import PDFs with nearly microscopic print or artists who enjoy perfectly drawing every line will enjoy the new pinch-zoom. By pinching out users can enlarge the page view to look more closely at whatever they have in their notebook - text, drawing, or photos.
"We can't meet every request, but we always try to add the best feature requests to PaperDesk," confesses Scott Hasbrouck, "Master Coder" for PaperDesk.
The new quick pens are both aesthetically and functionally improved over the old version. There're now more options and a cleaner, more appealing interface. This seems to be a lead-in for what the PaperDesk team might be planning for the near future; they suggest more UI redesigning might be something to anticipate.
The previous update included Retina optimization for all but the pen ink, and this is now incorporated as well. In addition, PaperDesk has reincorporated RTL language support.
PaperDesk is on sale for a limited time for only $0.99 (regularly $3.99). The notetaking app is available exclusively on the iPad. It has been available for purchase in the App Store since the launch of the original iPad.
Box offers secure, scalable content-sharing. In addition to the widespread adoption of their user-focused solutions, their website states a whopping "92% of Fortune 500 companies use Box." Get a free account at http://www.box.com/.
The Cregle, Inc. iPen reached its KickStarter funding goal on December 26, 2011. According to their KickStarter page, they raised an impressive $162K after setting a modest $35K goal. The iPen retails for $89 and can be purchased at http://store.cregle.com/.
For more information about PaperDesk visit http://www.myPaperDesk.com/ or contact support(at)myPaperDesk(dot)com.
PaperDesk is developed in the Tech Brewery at 1327 Jones Drive Suite 106, Ann Arbor MI, 48105.