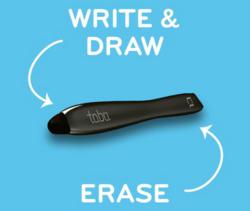 This [development] has the potential to revolutionize the way people write and draw on their iPad
Ann Arbor, MI (PRWEB) May 04, 2012
Over the past year, WebSpinner, LLC has worked with Kevin So, product development engineer at AV Concept Holdings, LTD., to develop the Tabü Duo stylus and the Tabü Paper iPad app. This hardware - software combo allows users an intuitive approach to writing and drawing. When used together, the small end of the stylus draws and the blunt end erases. There is no Bluetooth to connect or batteries to install, since the Tabü Duo is a completely passive, capacitive stylus - simply open Tabü Paper and start drawing and erasing. The inspiration was a simple pencil, and the motivation was the lack of a good parallel to the traditional pencil and paper model. "You can write and erase with just one simple flip, without having any unnecessary distractions," said Kevin So, product engineer of the Tabü product line. Scott Hasbrouck, indie developer of the Tabü Paper app and PaperDesk, the iPad note taking app, remarked "This [development] has the potential to revolutionize the way people write and draw on their iPad."
The Tabü Duo's solid machined aluminum body is triangularly shaped for comfort and ergonomics. It will come anodized in black, silver, and blue, and the interchangeable, magnetic capacitive tips will also be in assorted colors. After its release this summer, the Duo, as well as the rest of the Tabü product line, will be available through various retailers. Starting today, the dual tip stylus may also be pre-ordered on Kickstarter by pledging $20, a $5 discount off the normal retail price. The design team of the Tabü product line announced this plan on Kickstarter today, in an effort to raise public awareness and interest.
Tabü Paper will be available as a free iPad note taking app when the Tabü Duo stylus is released. For those looking for a more robust note taking platform, PaperDesk users will also have the option of using the Tabü Duo's dual functionality while taking hand-written notes or drawing.
PaperDesk was one of the first full-featured note-taking apps on the iPad, and has been frequently featured in the App Store, as well as spotlighted in TUAW and PadGadget. Most recently, the app has been headlined by ZDNet and Gizmodo, and it remains a high-ranking app in the App Store's Productivity section. PaperDesk was also recently made available for free on FreeMyApps.com. Both PaperDesk and Tabü Paper are optimized for the new iPad Retina screen.