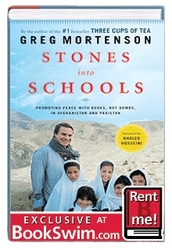 In competing for market share, we pushed each other to ship packages faster, increase our offerings, and broaden our understanding of what a book rental service could be.
New York, NY (PRWEB) December 20, 2009
BookSwim's competitor announced this month that it will be closing its doors. The two companies had similar beginnings, as Washington-based Paperspine founder Dustin Hubbard impressively grew the book rental service from a small operation in his home to a well-respected leader in the book rental industry.
"It was thrilling to have Dustin as an innovator, opponent, and friend," said BookSwim Co-Founder George Burke in a note to Paperspine on BookSwim's website. "In competing for market share, we pushed each other to ship packages faster, increase our offerings, and broaden our understanding of what a book rental service could be."
BookSwim welcomes any displaced Paperspine members. They can rent one BookSwim book a month for just $9.95, or use the discount code "PAPERSPINE" to try the first month of any other rental plan for the same amount. "Becoming a BookSwimmer saves you 50% or more on renting thousands of hardcover bestsellers, like Sarah Palin's Going Rogue, or Stones into Schools by Three Cups of Tea writer Greg Mortenson. These titles aren't available today at paperback clubs," Burke added.
"BookSwim gives its members immediate access to popular new releases in hardcover through the 'Exclusive at BookSwim' program, and that will help ensure our longevity for years to come. 'Exclusive at BookSwim' is like getting the DVD on a movie's opening night. BookSwim will have W.E.B. Griffin's The Honor of Spies and Committed, Elizabeth Gilbert's sequel to Eat, Pray, Love as soon as they are released. It could be 12 months before those titles are available from the paperback clubs," Burke explained. "Even today, only BookSwim rents Malcolm Gladwell's Outliers, a year after its publication date."
Pioneering initiatives that BookSwim launched this year have made it an innovative and lasting presence in the industry. BookSwim.com offers:

Starter Price of $9.95/month: The old $15 starter plan was replaced by $9.95/month for any rental, with thousands of titles available.
"Top Book Guarantee": Any book in the rental pool can be selected to go in a member's next shipment, guaranteed.
"Add to the Demand": BookSwim's catalog is member-driven, as BookSwimmers request and vote for titles not yet available.
"Exclusive at BookSwim" Rentals: BookSwim is the only rental club offering hardcovers; the only format available for most newly released novels.
UPS-Integrated Shipping: Offered free on most plans, BookSwim switched this summer to UPS for speedier outbound deliveries.
"Keep My Book" Discounts: Members can purchase rental books at up to 80% off retail prices.
Printerless Returns with Package Tracking: No need for a printer. Members return books in the supplied packaging, using a free postage-paid return label with barcode for tracking returns.
Unlimited and continuous reading: Fluctuating reading habits are rewarded with no due dates or late fees and free round-trip shipping on BookSwim's unlimited plans.
About BookSwim.com:
Launched in May 2007, Newark, NJ-based BookSwim.com is the only online paperback and hardcover book rental library cub to subscribers through free round-trip shipping, no due dates or late fees, and unlimited rentals. With nationwide coverage, BookSwim rents hardcover new releases, paperback classics and everything in between. Subscription plans start at $9.95 per month, with an option for members to keep the books they love. Holiday Gift Card Memberships can be purchased at $10 off during the month of December.
# # #