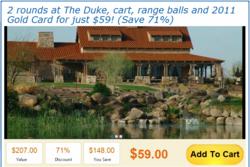 "With Fathers' Day right around the corner, golfers might want to think about giving their Dad a golf outing, and save money doing it. He might even invite you along"
Phoenix, AZ (PRWEB) May 26, 2011
Golfers in Phoenix looking for a good deal on their next round can visit http://www.deals.parstars.com, a new golf-focused site offering significant savings in Arizona.
Par Stars Deals offers steep discounts of 20 percent to 90 percent off all things golf and lets its users avoid the clutter that other group discount sites throw in subscribers' inboxes. The site serves exactly what golfers want to save on – golf.
"We dish up huge golf savings so our golfers can get out on the course more often and try new places they've never been before," said Par Stars CEO, Donald Case. "The other group sites have a golf deal from time to time, but you'd never know it unless you were always paying attention and could look past the health, dining and name brand offers. If you just want to find golf deals, you'll find them at Par Stars Deals."
Savings on rounds of golf, instruction, practice facilities, golf course dining, golf apparel and gear are just a few of the many things Par Stars Deals has to offer, and the savings can even be gifted to friends or family.
"With Fathers' Day right around the corner, golfers might want to think about giving their Dad a golf outing, and save money doing it," said Rebecca Case, President and co-founder of Par Stars. "Handing him a card with a Par Stars Deals voucher inside will make his day, and he might even invite you along to play the round with him."
Right now the site is offering $59 for 2 rounds of golf at The Duke at Rancho El Dorado, with cart, Range Card and 2011 Gold Card, a $207 value and a savings of 71%. More deals are going live on Friday, with even lower price points, and the site sends out email alerts to subscribers whenever new deals are posted.
Par Stars Deals is available at http://www.deals.parstars.com, where you can go to check out the latest deals, sign up for email alerts and purchase great golf you'll love for yourself or a friend.
About Par Stars
Par Stars Deals is a sub-section of Par Stars, a hub for all things golf. Whether you're searching for a new course to play that's your perfect match, need to book a tee time at your favorite course, want steep savings on tee times through group deals, need some quick information about a course you've heard of or are looking for tips to improve your game, Par Stars has it all.
###