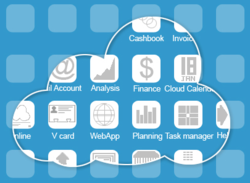 Bangalore, India (PRWEB) February 21, 2013
ParaBlu announced today that Nagendra Satyan, Ex-General Manager of EMC India, has joined the company as an advisor. He joins McAfee India's Managing Director, Anand Prahlad, on the advisory board.
"He brings immense experience and expertise to the company, and we are really excited to have him on board. The company is currently in pilot phase with multiple enterprises to offer private cloud hosting. He will help the company's expansion into the enterprise market," said Kameswaran Subramanian, Founder of ParaBlu Systems Private Limited.
Using ParaBlu, enterprises can set up a private cloud either on their own premises or one that is hosted by ParaBlu. The private cloud offers them a platform to store, sync, stream, share and search all their business data from one place. It also offers unprecedented levels of privacy and security, along with the ability to customize the cloud in a way that suits the enterprise's needs.
"The Private cloud has gained momentum rapidly over the past few years and is becoming increasingly relevant, especially for the enterprises. I strongly believe ParaBlu is placed in a unique position to offer a game changing product in this space," said Anand Prahlad.
The company aims to target the enterprise market aggressively in 2013, and it has already signed up multiple enterprises for pilot. In the pilot phase, enterprises using ParaBlu have been delighted with the reliability, security and speed of the product.
ParaBlu has also been working on a personal cloud solution for consumers which it aims to launch by the end of Q1, 2013. It offers consumers a personal cloud where they can store and sync their data. ParaBlu's unique approach also means that consumers get virtually unlimited storage on their cloud. The software will be available on Windows, OS X as well as Android, iOS and Windows Phones.
About ParaBlu Systems
ParaBlu is a leading edge product company in the private and personal cloud space. With thought leadership in cloud storage, virtualization, and security. ParaBlu offers industry leading solutions for enterprises in data sharing, management and protection.