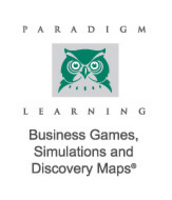 Tampa, Fla. (Vocus) January 19, 2009
Paradigm Learning announced today that it will be co-presenting with Hyundai Motor America at the 2009 Training Magazine Conference and Exposition in Atlanta, Ga., on Feb. 9, 2009, from 8 to 9 a.m.
The presentation, titled Accelerating Leadership Training for Managers , will focus on several learning objectives, including the development of a corporate university MBA leadership program. Participants will learn the following:

How Hyundai Motor America is tackling leadership development and how you can do the same
That discovery learning methodology is key to ensuring that your future leaders understand roles and responsibilities
How to develop your own MBA leadership program
The U.S. Department of Labor has been frighteningly consistent in its forecasts: The country faces a growing deficit of skilled workers. By some estimates, the United States will have as many as 8 million skilled jobs left unfilled by 2012.
The automotive industry certainly isn't immune to that prediction. Consider, for example, the North American division of Hyundai Motor Co.
The company had seen steady sales growth in the last 10 years, until the current recession, when things leveled off. However, this has not changed the fact that Hyundai still has a need for more specific skilled workers - an accelerated need for accountable leaders. In other words, people responsible for turning organizational goals into results are highly sought after.
Hyundai found its leaders in the two usual ways: by bringing them in from other companies and by promoting them from within. Interestingly, research showed that of those brought in from the outside, only 22 percent remained after five years, while 75 percent of those promoted from within remained. Cultivating homegrown leadership was worthy of attention. But how should the company go about nurturing and developing its future? At this session, you will hear how this has been accomplished.
Paradigm Learning will join Hyundai to talk about business acumen; leadership accountability; and how business games, business simulations and discovery learning methodology are key components in Hyundai's leadership programs.
Please join us at the Training Magazine Conference and Expo in Atlanta on Feb. 9 for an energetic, interactive presentation.
About Hyundai Motor America
Hyundai Motor America, (hyundaiusa.com) headquartered in Fountain Valley, Calif., is a subsidiary of Hyundai Motor Co. of Korea. Hyundai vehicles are distributed throughout the United States by Hyundai Motor America and are sold and serviced through more than 790 dealerships nationwide.
About Paradigm Learning
Paradigm Learning (ParadigmLearning.com) is a privately held company based in Tampa, Fla. Since 1994, it has worked with more than half of the companies on the Fortune 500 list, creating award-winning business games, business simulations and Discovery Maps® to address companies' specific business needs. Its flagship business acumen training program, Zodiak®: The Game of Business Finance and Strategy, has been played by more than 1 million people worldwide. Other products address such issues as talent management, employee alignment, leadership accountability, building teams, project management and organizational change.
Contact:
Diana Blackburn
Paradigm Learning
813-287-9330
# # #