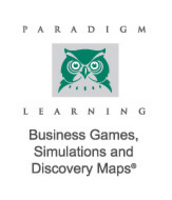 Clarian will face a knowledge drain, with a large percentage of its middle- and senior-management team poised to retire
Tampa, Fla. (Vocus) February 5, 2009
Paradigm Learning has unveiled its latest white paper, Beyond Talent Development: Talent Management's Role in the Future of Healthcare, by corporate training expert Catherine Rezak. The paper discusses the fact that there is a talent war going on, and that many healthcare companies are fighting it - and losing it.
Experts predict that throughout the next decade the healthcare industry will be the fastest-growing segment of our economy, accounting for three out of every 10 new jobs created. This phenomenal growth is likely to result in a staggering shortage of healthcare professionals.
"Healthcare organizations must make talent management a top priority. They must attract and retain qualified workers to ensure quality care. They must carefully source and develop talent while keeping employees engaged and committed," says Catherine Rezak, chairman of Paradigm Learning. She goes on to say, "Top-performing organizations must take a holistic approach to talent management, aligning strategies and expectations from the top down."
The paper continues with a client story about Clarian Health and its struggle to maintain its competitive edge. "Clarian will face a knowledge drain, with a large percentage of its middle- and senior-management team poised to retire," comments Corey Baute, recruiting and staffing manager at Clarian Health. "We meet our target goals for recruitment initiatives, but in some cases the lack of strong retention impacts our overall gain," he explains in the white paper. "That's why we turned to Paradigm Learning's talent leadership discovery learning program, Mosaic: The Art of Talent Leadership®."
According to Baute, the Mosaic program was well received. "Employees enjoyed the hands-on discovery learning approach. Most people experienced an 'aha' moment, bringing to life facts that are changing the way we do business."
Read about the talent crisis in the healthcare industry and how Clarian is winning the war in Beyond Talent Development:Talent Management's Role in the Future of Healthcare. For more information on this white paper or on Mosaic, contact Paradigm Learning at http://www.ParadigmLearning.com or 813-287-9330.
About Paradigm Learning
Paradigm Learning provides creative classroom games and simulations that are fun, fast, cost-effective and easily customizable to your business strategies. Our corporate training programs have been delivered to more than 50 percent of the Fortune 500 and focus on the areas of business acumen, employee alignment, organizational change, project management and talent leadership.
Contact:
Diana Blackburn
Paradigm Learning
813-287-9330
###