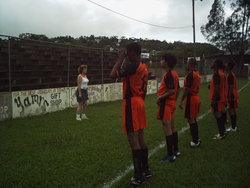 "Just do IT " is my motto !
(PRWEB) October 26, 2010
Her bags are packed, and she's ready to go – cancer survivor, explorer and Realtor Macarena Rose is proud to announce she's in the running to be the next host of TV's "Paradise Hunters." The show, which visits people around the world who are living their dreams in their version of paradise, is looking for a person who loves exploring new worlds and meeting the people who call them home.
Macarena certainly fits that description. Born and raised in Washington, DC, she lived in St. Petersburg Florida for 20 years and then moved to Cayo District, Belize with her 16-year-old daughter five years ago, with 10 animals in tow.
"Since moving to Belize, life has been such an adventure. No monotony for sure!" she says on her website, http://www.macarenarose.com/. "I have been blessed to have had dinner with a prime minister, coach the semi pro Men's futbol (soccer) team, be the voice on the SMART cell phone in Belize, host a weekly TV show featuring Belizeans lives and become part of Belize and sign the Bi-Lateral agreement with N.A.R. (National Association of Realtors) accepting Belize National Association of Realtors as an Cooperating Association." Macarena says, "See, I believe if you are to relocate, you must bring good to where you go, and decide what it is you will do, before you go."
Through her work as a Realtor, Macarena says she has become a relocation specialist, helping people find the right home for them, wherever in the world that may be. She has also made herself quite at home in Belize. In her audition video, she gives viewers an in-depth look at the country, with all the passion and knowledge of an expert tour guide.
"Ah! It's pitahaya!" she exclaims while visiting a local market. "I have to tell you: it looks like an artichoke, but inside it tastes like a red kiwi and it is luscious... it grows all over Belize."
Even her very name sets her apart from the competition.
"As your host, I can offer you one thing that no one else can: my name is Macarena, and in many different countries, I can have people participate in the Macarena," she says in her video.
The contest closes November 5, at which point 40 applicants will be chosen to move on to phase two. Time is running out, so go to Macarena's contest page, watch her audition video and vote for Macarena in paradise!
###