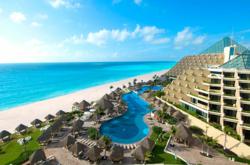 Our guests had been asking for comprehensive all-inclusive options and higher-end family-focused and adults-only amenities, and it was evident that the Cancun area was missing a true luxury all-inclusive Cancun resort experience.
Palma de Mallorca, Spain (PRWEB) November 08, 2012
Meliá Hotels International, one of the world's largest resort hotel chains with more than 350 hotels in 35 countries on 4 continents, announced the transformation of the Gran Meliá Cancun property into a luxury all-inclusive Paradisus resort, scheduled to open its doors December 1, 2012. The new Paradisus Cancun Resort, located 15 minutes from the airport and 20 minutes from Downtown, will provide a sophisticated answer to Cancun travelers' requests and the evolving needs of the destination, from EP to an all-inclusive market, by offering a superior customer product that is traditionally not associated with all-inclusive resort properties.
In bringing its most successful brand to Cancun, Meliá Hotels International is cementing the brand's foothold in Mexico and building on the blossoming reputation of its two new flagship properties that opened in Playa del Carmen in December of 2011. Paradisus Cancun will feature all the attributes of the 'luxeclusive' Paradisus brand; providing guests with "Pure Freedom" to indulge, escape and enjoy the 678 suites which include 137 Royal Service Suites and 97 Family Concierge Suites, six restaurants and five bars and Tempo by Martin Berasategui by Michelin Star chef Martin Berasategui, who partnered with Paradisus in 2011 to open his signature eateries at the brand's properties.
"Our guests had been asking for comprehensive all-inclusive options and higher-end family-focused and adults-only amenities, and it was evident that the Cancun area was missing a true luxury all-inclusive Cancun resort experience," said Andre Gerondeau, Executive Vice President, Meliá Hotels International. "Through our success of the Paradisus brand in the Caribbean and in Playa del Carmen, we knew we had to bring the brand to the area in order to offer a distinct experience that would set the property apart from the rest of the marketplace. With exciting new partnerships, such as "Tempo by Martin Berasategui", we are now able to provide an extraordinary product that has never been offered within the all-inclusive segment."
The Paradisus Cancun will offer the elegance and amenities exclusive to only the most prestigious hotels, set against the backdrop of one of the best beaches in the world. Resort amenities will include signature adult-only Royal Service program, Family Concierge program and Kid´s Club, four spectacular pools with swim up bars, six restaurants and five bars featuring a variety of international cuisines, a full service YHI Spa and Health Club, more than 10,000 square feet of meeting and convention space and a 9-hole par-3 golf course.
The striking multi-pyramid architecture of Gran Meliá Cancun will remain, while a series of renovations and beautifications will elevate the property to the high design standards of Paradisus resorts. Family Concierge will feature its own lounge with private check-in/out, internet access, a snack buffet and premium drinks. Similarly, guests at Royal Service suites will also have their own private check-in/out lounge that includes daily continental breakfast buffet, snacks, coffee and premium beverages throughout the day and international newspapers. In Royal Service tradition, guests will also enjoy their individualized butler, which they can contact all-day with cell phones provided at check-in.
Paradisus' commitment to providing guests with a superior culinary program continues with the new Cancun property. Restaurants options include Naos (buffet), Vento (Mediterranean), Bana (contemporary Asian), Market Grill (Italo-Argentinian) and Mole & Tacos (modern Mexican.) Guests who book either Royal Service or Family Concierge accommodations are invited to a dinner at Tempo by Martin Berasategui per stay, while other guests are welcome to experience the celebrated cuisine for a surcharge. Tempo will feature an à la carte menu as well as a tasting menu. Bars and lounges include Avenue Bar, Red Lounge, Swim-up Bar, Beach Bar and Caribe Bar.
Rounding up the impressive facilities, Paradisus Cancun will also feature its signature YHI Spa with a robust menu of treatments, an expansive fitness area with a mixture of cardio and weights equipment and YHI Moves, which offers fitness, personal training and wellness activities all by professional certified staff. The resort's Meeting and Convention facilities is a colossal multifunctional center perfect for groups, conventions, incentives and weddings. It will accommodate up to 1,800 people in a reception setting or 1,100 guests in banquet service with a total of 21 break-out rooms. Additional facilities include lighted tennis court, business center, boutiques, tour desk, and 9 holes golf course.
Paradisus Cancun is offering a special introductory rate of $140/night (per person, based on double occupancy). This rate is valid November 15 – December 22, 2012 and then January 10- March 31, 3013. This is for all bookings from now until February 28, 2013.
Paradisus Resorts are elegantly designed with attention to every detail in mind. Spectacular architecture, world-class cuisine and premium service achieve the goal of allowing guests to experience ultimate relaxation in a stress-free and upscale environment, with the luxury of not once having to reach for a wallet. All properties reflect their surrounding environments and are set amid lush tropical gardens, chic restaurants, lavish suites, award-winning spas, pristine beaches and oversized, stylish swimming pools.
About Paradisus Resorts
Paradisus Resorts is an all-inclusive luxury resort brand owned and operated by Meliá Hotels International, (formerly Sol Meliá Hotels & Resorts) one of the world's most successful hotel companies. The growing brand currently has two hotels in Punta Cana, Dominican Republic: Paradisus Palma Real and Paradisus Punta Cana and two resorts in Playa del Carmen Mexico: Paradisus Playa del Carmen La Perla (adults-only) and Paradisus Playa del Carmen La Esmeralda (for everyone). Its fifth property, Paradisus Cancun, is scheduled to open in December 2012. Boasting unique room categories and luxurious upgrade options such as the adults-only Royal Service and family-only Family Concierge, the resorts are ideal for a wide spectrum of guests including couples, family vacations, destination weddings and business travelers. The properties in Punta Cana each feature The Reserve at Paradisus, an exclusive resort-within-a-resort concept where guests experience private check-in and stay in residential style accommodations, among numerous other services and amenities. Paradisus Resorts will continue its growth with the opening of a brand-new property in Papagayo Bay, Costa Rica, scheduled to open in 2013. Follow Paradisus Resorts on Twitter, @Paradisus and Facebook, Facebook.com/Paradisus.Resorts.
About Meliá Hotels International
Meliá Hotels International was founded in 1956 in Palma de Mallorca (Spain) and is one of the world's largest resort hotel chains, as well as Spain's leading hotel chain. It currently provides more than 350 hotels and 87,000 rooms in 35 countries on 4 continents under its brands: Gran Meliá, Meliá, ME, Innside, Tryp by Wyndham, Sol and Paradisus. Its product and service portfolio is complemented by Club Meliá, the only vacation club operated by a Spanish company.
In 2011, the family company founded by Gabriel Escarrer Juliá, that operated under the name "Sol Meliá" for decades, began a new stage in its development under the brand name that represents its present and its future: Meliá Hotels International.
For more information:
Department of Communication
Tel. +34 971 22 44 64 | comunicacion (at) melia (dot) com | http://www.melia.com