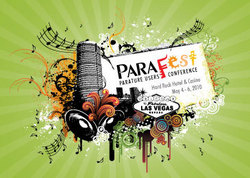 Las Vegas, NV and Vienna, VA (Vocus) May 6, 2010
Parature, a global leader in on-demand customer service software, announced today that Parature CEO, Tim Davenport delivered the conference welcome address during general session of ParaFest '10, the company's sixth and largest annual users' conference. ParaFest '10 began Tuesday, May 4 and will continue through Thursday, May 6, 2010 at the Hard Rock Hotel & Casino Las Vegas. This customer focused conference is enabling Parature users from around the world to gain invaluable knowledge from industry experts and thought leaders, while networking with colleagues and peers.
Mr. Davenport's dynamic and compelling welcome address began with highlights of Parature success in 2009, then continued to set the stage for 2010 and what to expect from this year's conference. Specifically, he spoke to the value of social media channels as they relate to the customer experience and with it, the unveiling of Parature for Facebook™.
Mr. Davenport stated, "We are delighted to have brought our customers, partners, employees and other industry experts back together in Las Vegas for ParaFest '10, providing a unique opportunity to share some of the most thought provoking discussions around customer service and the customer experience today, learning how to further leverage your investment in Parature products and services, and a preview of Parature's vision for the year ahead." Tim further commented on Parature's commitment to the success of its customers and dedication to delivering the reliable and innovative technology that the industry and their customers expect, all at an affordable price."
ParaFest '10 features hands-on training sessions led by the Parature Professional Services team and a diverse mix of customer experience, product and best practices sessions led by Parature customers as well as other industry experts. Attendees have a unique opportunity to exchange ideas, share industry insights and trends, and network with their peers as well as Parature executives and staff. The popular ParaFest Zone is available for participants to meet with Parature experts and partners, experience new product features and learn tips and techniques on how to further strengthen their investment in Parature Customer Service™ software.
Parature enables any organization to fundamentally change the way they support their customers through its Software-as-a-Service (SaaS) delivery and integrated, intuitive design that empowers organizations to better and more efficiently serve, support, engage with and retain customers in today's Web world. Parature Customer Service™ software integrates a customer portal, rich knowledgebase, ticketing, and a host of other modules in one dynamic, tightly unified system that allows organizations to effectively manage all of their support needs. Parature software increases efficiency across entire organizations, improving processes among customer support, operations, development and sales.
About ParaFest
Every Spring Parature hosts an annual forum for some of the most innovative discussions about customer service issues in the industry. ParaFest™ has become a popular, "sold-out" event for Parature customers from every corner of the world and every industry to come together to share ideas and learn how to further strengthen their Parature investment. Parature executives, along with customer service and product experts on the front lines, international authorities and authors share insights and trends, and discuss best practices and emerging issues. For more information, visit http://www.parafest.com and follow @Parature or #parafest on Twitter.
Parature, Inc.
Parature enables organizations to better serve, support, engage with and retain their customers via the Web. Industry-leading, on-demand Parature Customer Service™ software provides customer service organizations with a comprehensive, multi-channel way to meet the growing expectations of their customers. With more than 10 years experience, Parature serves organizations in a wide variety of industries worldwide and helps support more than 16 million end users. Parature is among Inc. Magazine's Top 100 Fastest Growing Private Software Companies and is the recipient of numerous product, technology, and leadership awards. Today, the Parature name is synonymous with innovation and value in Web-based customer service software, strategies and best practices. Parature is headquartered in Vienna, Virginia with offices in San Francisco and the U.K. For more information, visit http://www.parature.com or follow @parature on Twitter.
# # #