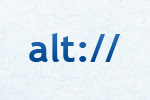 Portland, OR (PRWEB) February 07, 2012
Plans for a parallel internet, the alternet, were unveiled last week by web services provider Level 270 LLC.
Founder of the project, Ben Riordan, stated "We wish to progress our interactions with technology in remarkable ways. In order to see certain concepts through, we are clearing the drawing board and architecting a new internet."
The website for the project states "The alternet is a parallel internet in which every domain is available once again and standards are ripe for change. A technical wild west if you will. DNS is public facing so the alternet can be used to a developer's imagination. Domains will be available for sale later this year."
Web pages on the alternet are accessed by typing the alt:// prefix or "protocol". This loads sites such as alt://website.com from the public facing alt-DNS. Browser extensions for the four most popular browsers are in development. The extensions would add proprietary support for the alt:// protocol when requesting web pages.
Riordan also stated: "Plans for the alternet go beyond just web pages. Full domain record management will be included with the alternet domains for sale later this year. This allows for services and technologies in addition to web sites to be deployed on the alternet. These services may be well known technologies such as email, or something new and not part of traditional internet standards. We have some ideas but we are getting the ground floor built before we start shaking up the status quo."
Approximately 70 individuals have signed up to receive more information about the project in the first couple days. This is a better than expected initial reception of the announcement before any major marketing campaigns have taken place. Comments posted on the website have varied in opinion from disliking the project, applauding the project, or offering constructive criticism.
Further details will be released as the project progresses. Individuals are encouraged to subscribe to email updates at the alternet website.
###