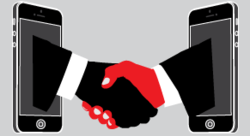 We've designed Captive Reach for Finance as a mobile platform that personalizes the client experience with each advisor from the palm of their hand.
San Diego, CALIF. (PRWEB) June 28, 2013
Parallel 6, a creative enterprise mobile technology company, has announced the release of its Captive Reach for Finance platform that allows banks and other financial organizations to stay in touch with their clients and help increase their overall money under management. Advisors and brokers in the finance industry now have the ability to effectively and efficiently engage with prospective and current clients with Captive Reach, an enterprise mobile technology platform created by Parallel 6.
Captive Reach for Finance utilizes "Mobile as a Platform" strategies to increase the overall value per broker and increase top-line revenue for financial organizations. The Captive Reach mobile technology backs a uniquely branded mobile app that allows broker groups to better understand the interests of its brokers and clients. Captive Reach for Finance delivers results that:

Drive interaction
Reward with real value
Incentivize clients to take desired actions
Leverage client-to-client referrals
Produce valuable insights
Incorporate learning into future marketing efforts
Reduce churn
"More and more people are building trusting relationships with brands through their mobile phones and trusting their phones to perform secure transactions," said David Turner, CEO of Parallel 6. "There's an opportunity to extend these trusting relationships to personalized experiences with each client. We've designed Captive Reach as a mobile platform that personalizes the client experience with each advisor from the palm of their hand. With more touch points and relevant financial information, advisors can build closer relationships with their clients and ultimately have a more personalized experience over time."
Based on insights from the Captive Reach mobile platform, advisors can reach their client anywhere in the world, sending them information based on age, gender, or location, thus increasing communication.
Imagine that an advisor can push out personalized information like retirement-based info to their 50+ aged clients but send saving plans to clients ages 20-30. The advisor can service more accounts increasing the overall productivity of his/her efforts. Advisors can also analyze the categories that their clients click on through the mobile app. These insights give the advisor a better idea of the types of services the clients are interested in to keep them engaged. They can also offer their clients a more optimized and relevant experience. Further, the advisor's next phone call can be directed toward those interests, opening the discussion for more financially sound solutions.
Captive Reach for Finance is created for clients in the United States, Latin America and Asia Pacific. The mobile technology can be a branded solution for each client or easily integrated with an existing mobile application. For more information about Captive Reach and to request a demo, please contact (619) 269-1063. For press inquiries, please contact Nikki Jimenez at (619) 233-7778.
About Parallel 6:
Parallel 6, a creative enterprise mobile technology company, is the creator of Captive Reach, an all-encompassing enterprise mobile platform. Captive Reach influences consumer behavior, enhances brand recognition and builds strong client-customer relationships. Parallel 6 also offers a suite of managed services such as social media and campaign management, SEO, design, and website creation. The company serves a wide array of B2B and B2C companies including retailers, daily deal companies, hotels, e-commerce, publishers and professional service firms around the globe. The firm is based in San Diego with development offices in Mexico, Ukraine and China. For more information, visit http://www.parallel6.com.
###