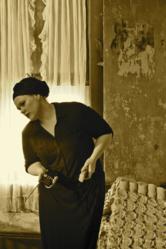 Sayed explores paranormal interest through a cultural lens. Her insights delve into why we tell ghost stories in the first place.
Greensboro, NC (PRWEB) October 05, 2011
Deonna Kelli Sayed is an American-Muslim author and wife of a United Nations diplomat. She is one of the few ghost hunting Muslims in the United States. Her new book, Paranormal Obsession: America's Fascination with Ghosts & Hauntings, Spooks & Spirits, unveils how shows like SyFy's Ghost Hunters offer unique commentary on a post-9/11 society and how the paranormal helped her rediscover her American identity.
Paranormal Obsession is the first book to apply a cultural perspective to an often clichéd concept.
The author utilizes her unique story as a globetrotting American Muslim and paranormal researcher to explore why paranormal reality TV has launched a new ghost hunting subculture. Sayed is an investigator with Haunted North Carolina, a family team of The Atlantic Paranormal Society (TAPS), made famous by the TV program, Ghost Hunters. She considers the impact of paranormal reality TV on society as a paranormal investigator who is also a global citizen.
Paranormal Obsession balances the world of the unseen with biting academic inquiry. Sayed readily shares her spooky paranormal experiences at North Carolina locations such as the USS Carolina and Körner's Folly. Additionally, she engages academics, scientists, paranormal reality TV show cast members, and fellow paranormal investigators to explore why people hunt ghosts in the first place.
"Paranormal reality TV resonates with so many around world," says Deonna Kelli Sayed. "In America alone, there are large numbers ghost hunting on any given weekend. I explore how this hobby is becoming a form of spiritual expression as well as one way understand our local identity in a global world. Paranormal interest allows us to tell new stories about who we are at this unique historical moment."
In Paranormal Obsession, Sayed considers how paranormal media culture is impacting discussions concerning religion, science, and cultural expression. She explores the limitations of institutional religion in dealing with paranormal encounters while delving into possible scientific innovations occurring specifically because of paranormal research. She also studies the ways paranormal interest is altering how the public experiences historical sites. Finally, Sayed probes the value of paranormal investigation as a form of cultural work that goes beyond the argument if ghosts really exist.
Sayed's personal narrative is laced throughout the book detailing her journey from an international diplomat's wife to a visible ghost hunter.
Readers get a dose of old-fashioned ghost stories, exclusive interviews with paranormal reality TV cast members, and a refreshing perspective to an increasingly global avocation.
About Deonna Kelli Sayed
Deonna Kelli Sayed is an American-Muslim cultural commentator and ghost hunter of global proportions. She has written for various lifestyle magazines in the Middle East. Deonna is an emerging author and currently the editor of Ghostvillage.com, the Web's most popular paranormal destination according to Google.com. She has appeared on various media programs and is a public speaker on a variety of topics from the paranormal to Islam.
About Paranormal Obsession:
Paranormal Obsession: America's Fascination with Ghosts & Hauntings, Spooks & Spirits (ISBN-13: 978-0738726359, pages: 264, price: $15.95) was published by Llewellyn Publishers) in September of 2011. The book is available at online and traditional booksellers.
Contact the author for interview requests and for more information.
# # #