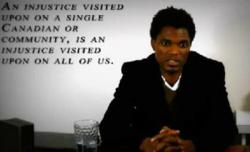 My hunger strike is demanding only the minimum of what Canadians should be demanding right now.
Vancouver, BC (PRWEB) April 24, 2012
With the omnibus crime bill now passed into law, the effects are only beginning to be seen. Bill C-10 was created as part of the conservative governments "tough on crime" approach. It was pushed through Parliament and the House of Commons and trumpeted as a fulfilled Harper campaign promise. The question arises though, is it sustainable?
Bill C-10 did not pass without opposition and now welcomes a new protestor: Obert Madondo who has launched an ongoing hunger strike in protest of arrest for expressing his democratic right to free speech during the Occupy Ottawa protests.
Before being passed into law, Bill C-10 wasn't winning any popularity contests either; the Canadian Bar Association wrote a 100-page document detailing their objections to the proposed bill before it was introduced. Among the objections, they spoke of the effects the bill would have on the waiting period for those seeking a Canadian pardon.
"We believe that measures to lengthen the wait for all pardon applications across the board are misguided. It would simply make rehabilitation and reintegration into society more difficult, rather than improve public safety," says a quote from the report. "…[It] is both unnecessary and counterproductive."
The latest statistics support their conclusions. From 1970 to 2010, over 400,000 pardons were granted to Canadian citizens seeking a pardon of their criminal records. 96% of those pardons remain active today, indicating that the rehabilitation of the mass majority was successful. In 2009 – 2010 a total of 24,139 pardons were granted. With the new laws in effect, the Parole Board of Canada predicts that less than 15,000 pardon applications will be processed in 2012.
Why such a substantial drop from previous years? "Under the new legislation, the costs involved with processing a pardon application have risen dramatically," says Jared Church from Express Pardons Canada, a legal services firm that assists Canadians in preparing their pardon applications. "Going over that mark means even higher prices than they have now… It is just not sustainable."
RCMP statistics show that 4 million Canadian citizens currently carry a criminal record, while the courts are adding approximately 260,000 new records per year. The rate of pardons will need to go up eventually, but at what cost? With reports of Canadian incarceration costs going up over 80% in five years, the current government does not appear concerned about the price to taxpayers in relation to justice issues.
With one in seven Canadians holding a criminal record, and fewer obtaining criminal pardons every year, it's only a matter of time before this issue reaches a boiling point. "There will come a point when taxpayers realize what this is really costing them." Says Church, "Hopefully that day comes sooner than later."
About Express Pardons: Express Pardons assists Canadians to get a second chance, Express Pardons works with the Parole Board of Canada to petition for a pardon on a client's behalf. With extensive knowledge of the pardon process and established relationships with Police and Court officials nationwide, the Express Pardons team delivers a rapid application process with a 99% success rate.