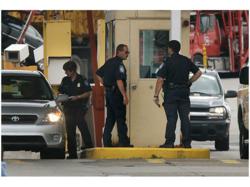 At this time every year, dozens of family vacations are cancelled because of complications at the border
Vancouver, BC, Canada (PRWEB) May 31, 2012
Canadians with criminal records are being held at the border.
Many believe this is restricted to the most wanted list, or hardened criminals known to police, but a family on their way to Disney Land is just as likely a scenario. At this time every year, dozens of family vacations are cancelled because of complications at the border.
A US border guard, or customs agent is sworn to limit access to the United States where a person with a past criminal record is involved. Something as common as a reckless driving charge could keep someone out of the country.
This becomes a real issue when we consider that around 4 million (1 in 7) Canadians currently hold a criminal record according to the RCMP. Many international travel plans have connecting flights within US borders, but it is possible to be turned around at the gate if a guard does not like what he sees in an individual's past.
Those with criminal records needn't give up hope of ever traveling; they are still allowed to enter the US when they have the proper documents. "All it takes is a US Entry Waiver" says Jared Church – Founder of Express Pardons Canada.
The summer months of June through August are some of the busiest for airport traffic according to the US Bureau of Transportation Statistics. No surprise then that Express Pardons Canada sees a similar swell in calls inquiring about US Waivers during these months. "It's unfortunate because a lot of these people didn't realize they needed [a waiver]. " Continues Church; "We see many vacations get put on hold each year."
So how long does it take to get a US Entry Waiver?
Each person's application is different, so the wait times for a travel waiver will also be unique to the individual. "6 to 10 months is the typical turnaround time for an application", says Church, adding, "It's a good idea to give yourself a years head start."
The US Travel Waiver is valid for multiple entries into the country, for as long as the waiver is valid (up to 10 years). For those who already have one, you're in the clear for now, remember however, to start your renewal application a year before it's expiration to prevent disappointment at the border.
***
About Express Pardons: Express Pardons assists Canadians to get a second chance. Express Pardons works with the Parole Board of Canada to petition for a pardon on a client's behalf. With extensive knowledge of the pardon process and established relationships with Police and Court officials nationwide, the Express Pardons team delivers a rapid application process with a 99% success rate.