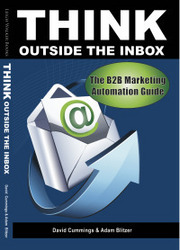 This advice is culled from years of hard-won lessons in a relatively young field
Atlanta, GA (PRWEB) June 2, 2010
From the co-founders of Pardot, a leading marketing automation vendor, comes the authoritative guide on marketing automation best practices for business-to-business (B2B) marketers. In "Think Outside the Inbox: A B2B Marketing Automation Guide," David Cummings and Adam Blitzer give you all the best tips, tricks, and advice based on their experience as pioneers in the emerging field of marketing automation.
Marketing automation has been called the most transformative advancement in sales and marketing since the advent of CRM. Never before have sales and marketing professionals had so much insight into prospects' interests, behaviors, and buying intentions. Many people think of email marketing, and the inbox, as an effective part of online lead generation and nurturing, and it is. But marketing automation provides a complete solution, with the inbox as just one piece of the toolkit. Use this guide to learn more about marketing automation and the immediate benefits it will bring your business.
"Think Outside the Inbox" features valuable best practices information on the following topics:

Sales and marketing in the cloud
Creating successful email campaigns
Scoring and grading inbound leads
Social media and community marketing
Lead nurturing and drip campaigns
SEO secrets
Demonstrating marketing ROI
"This advice is culled from years of hard-won lessons in a relatively young field," said David Cummings, Chief Executive Officer and co-founder of Pardot. "Marketing automation has revolutionized the way B2B companies do business, and it's exciting to be able to share best practices gleaned from our own experience. 'Think Outside the Inbox' contains information that is truly essential to every marketer in today's world of digital branding. If you haven't spent time fine-tuning your online strategy, tracking return, and understanding how to effectively reach potential customers through the web, you're essentially just throwing away your marketing dollars. This book will start you on the path to really skyrocketing the value of those online campaigns."
Internet marketing guru Todd Miechiels welcomes the book with enthusiasm. "David and Adam were developing and using practical marketing automation methods before people even knew what to call it. No one I know understands the space better from an 'in the trenches' perspective," says Miechiels. "In my 10 years of online B2B marketing, this is the best book I've come across."
"Think Outside the Inbox: A B2B Marketing Automation Guide" by David Cummings and Adam Blitzer is published by Leigh Walker Books and weighs in at 158 pages. "Think Outside the Inbox" is available on Amazon.com.
About Pardot
Pardot is a B2B marketing automation software provider that increases revenue and maximizes efficiency for companies with multi-touch sales cycles. Prospect Insight, Pardot's lead management software, features CRM integration, email marketing, lead nurturing, lead scoring, and ROI reporting to help marketing and sales teams work together to generate and qualify sales leads, shorten sales cycles, and demonstrate marketing accountability. Pardot's pricing plans start as low as $500 per month, and plans do not require contracts.
###