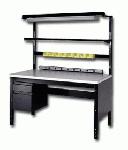 My Company Provides A Fantastic Total Value Proposition! We sell the Best products at great price points.
Philadelphia, PA (PRWEB) February 15, 2012
A Plus Warehouse has been a national dealer for Parent Metal products since 1996, and A Plus Warehouse wants to acknowledge the great products Parent Metal has manufactured for A Plus Warehouse's customers both domestically and internationally. Parent Metal has been producing economical industrial shelving, work benches and shop equipment in Pennsylvania continuously since 1921. Manufacturers can not exist for close to a century without offering value to customers. When ordering Parent Metal products through A Plus Warehouse, customers can be comfortable knowing that 100% of the process is American. Parent even gets their sub assemblies manufactured in USA. Specifically, Parent Metal is a Metal fabricator, as the name suggests. Work benches with plastic laminated or maple tops have some non metallic components, obviously. These components are made in USA also.
A Plus Warehouse adds to the American nature of the order by having a firm policy on operating call centers with American workers here in USA. There has never been any outsourcing at A Plus Warehouse! As mentioned, Parent Metal and A Plus Warehouse are a team with the integral purpose of providing value to customers domestically and internationally through an efficient distribution channel. According to Gary Pickell, President of Parent Metal, "My Company Provides a Fantastic total value proposition. We sell the best products at great price points". Mr. Pickell is on to something there , and A Plus Warehouse customers have been enjoying this unique value proposition since early 1996 – when A Plus Warehouse was awarded a coveted Parent Metal Franchise to sell these fine products anywhere.
Here is a listing of some of the items Parent Metal produces and A Plus Warehouse sells: Industrial Work Benches, Electronic Work Benches, Storage Cabinets, Wardrobe Cabinets, Shop Desks, and Shelf Trucks. Clearly , Parent produces many items used in any warehouse. A Plus Warehouse can provide any customer with an excellent material handling solution to most warehouse and operational issues. As a broad line distributor , A Plus Warehouse is able to integrate quality Parent Metal items into a system including conveyors, pallet racks and hoisting equipment as well. Storage cabinets, shelving , and work benches are all important parts of a company's operation. Customer count on A Plus Warehouse to provide a wide range of other similarly important equipment families as well.
A few words on A Plus Warehouse: A Plus Warehouse operates http://www.apluswhs.com and provides great service to customers domestically as well as in Canada. A Plus Warehouse is focused on providing quality products to customers at reasonable prices.
# # #